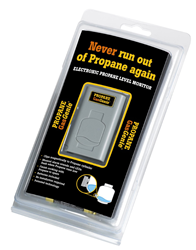 There's nothing worse than running out of propane in the middle of grilling. It's never a happy ending when that happens! -- Peter Frank
São Paulo, Brazil (PRWEB) June 27, 2014
Whether you are a grilling pro or an utter newbie to the BBQ grill, there are some simple things you can do to ensure you don't end up with a red face, broken foot or 3rd degree burns at the family BBQ party. Starting from July 1st, Created Electronic Products Inc will be publishing some valuable tips and steps you can take to make your BBQ a huge success. Below is a preview of the first tip.
Tip 1. Don't Run Out Of Propane In The Middle Of Grilling
Running out of propane in the middle of grilling should be avoided at all costs. In fact running out of propane while grilling can not only ruin the day, but can also increase the chances of the guests getting food poisoning.
Fortunately, there are a few ways someone can tell if a propane tank is running low. Perhaps the most common, and the one that first springs to mind is the pressure gauge. But pressure is not a good way to measure the amount of propane left in your tank because the gauge will not go down until there is about a minute or two of grilling left to go.
A hook and lift type of scale is way more accurate. When it comes to propane the scales don't lie. One could b kept near BBQ whilst grilling. The device works by hooking up the propane tank and checking the weight every so often to make sure there is enough propane left to finish what is on the grill.
Then there are those magnetic strips that you stick to the tank and measure the amount of propane in the tank using temperature. However these are almost as labour intensive as using the scales. And you have to remember to use them some way into the BBQ. They don't work before the gas is flowing.
Finally there is a really clever invention and that actually warns you in time to do something about it. It simply clips magnetically to your tank and plays a tune when the gas level starts to get low. It's called the Propane GasGenie and is available on Amazon.
There's nothing worse than running out of propane in the middle of grilling. It's never a happy ending when that happens! -- Peter Frank
Further tips and recipes will appear on the Company's blog and Facebook page.
About Created Electronic Products Inc
Creative Electronic Products Inc are dedicated to sourcing innovative electronic products that solve common problems for everyday consumers. Their first product, the Propane GasGenie, has proved a big success with grilling enthusiasts all over the US. For more info on the Propane GasGenie visit http://www.propanegasgenie.com. To play Hamburger Frisbee and grab your chance at winning a Propane GasGenie visit http://www.propanegasgenie.com/fun-and-games/.