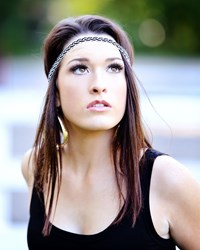 Skinny headbands make a sophisticated fashion statement that seems just right for New York Fashion Week.
Lincoln, North Dakota (PRWEB) September 04, 2013
Melissa Ahonen is pleased to announce that her handcrafted hair accessory company, BBT Style (http://www.bbtstyle.com), will be part of GBK's Styling Lounge for 2013 New York Fashion Week. The company will have its Black & White Braided Headbands and Ribbon Headbands included in highly sought after The Artisan Group® swag bags, which will be presented to celebrities attending the Lounge.
"I selected the braided and ribbon headbands to gift because they reflect the Boho Hippie style that is so popular right now," said Ahonen. "They have a slim profile that lies flat against the head, making them great for long or short hair. Plus, skinny headbands make a sophisticated fashion statement that seems just right for New York Fashion Week."
BBT Style's presence at New York Fashion Week is the most recent sign of the artisan fashion company's rapid growth.
In May of 2012, the company partnered with country music singer and ex-The Voice contestant Adley Stump to introduce a collection of couture headbands. In late 2012, BBT Style received product placement in the Lifetime Movie Network's indie film, "Dark Desire," where Nia Peeples wore a "Green Flower Power" headband. In February, BBT Style teamed up with Krystal Steel of 2 Steel Girls (also an ex-The Voice contestant.) This summer, retailer Scheels All Sports began carrying BBT Style's "Sporty Style" headbands in the Running and Youth departments of their Bismarck, North Dakota location.
Ahonen says she is especially excited about the new relationship with Scheels who, like BBT Style, is headquartered in North Dakota. "Scheels' support of our company as a local, artisan business has been fabulous," commented Ahonen. "As soon as I re-stock, customers are rushing right over to see what's new."
The "Sporty Style" headbands are a new line designed for active men, women and youngsters. According to Ahonen, "These headbands are for the movers and shakers out there."
Ahonen sees her company re-defining the headband as a fashion necessity for active, style-conscious women and girls of all ages. A rewrite of traditional headbands worn by the likes of Mary Tyler Moore and Patty Duke and a bolder take on the delicate versions sported by style icons like Paris Hilton and Milla Jovovich in recent years; they combine practicality with an inimitable sense of fun and a bit of flirt.
The headbands, wraps and sashes are fashioned with luxurious fabrics and embellishments and offer the wearer the opportunity to achieve 'hair without a care' chic in looks that range from rock 'n roll to country to all out Hollywood bling—and everything in between.
BBT Style headbands are in the hands of The Duck Dynasty cast, Josh Duhamel and Fergie, Debby Ryan, Miranda Lambert, Lauren Conrad, Allison Schmitt, Denise Richards, RaeLynn, Nick and Vanessa Lachey, Diem Brown, Hilary Duff, Suri Cruise and Jessica Alba's daughter Honor, who the paparazzi have photographed wearing BBT Style on several occasions.
To learn more about BBT Style, contact Melissa Ahonen at 701-400-0084 or by email. Shop BBT Style at http://www.BBTStyle.com, and at select retail locations in the United States and Canada. Follow BBT Style on Facebook (http://www.facebook.com/bbtstyle) and Twitter (@BBTStyle).
ABOUT BBT STYLE
BBT Style (http://www.bbtstyle.com) headquartered in Lincoln, North Dakota, creates fun, stylish headbands and hats for all ages. We love fabric and believe you can never have too much. BBT Style is a proud member of The Artisan Group® and Pride of Dakota.