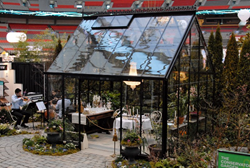 Vancouver, B.C. (PRWEB) March 14, 2014
BC Greenhouse Builders, leading North American custom greenhouse manufacturer of hobby, commercial and estate greenhouses, recently won gold for The Conservatory Garden at the BC Home and Garden Show. A collaborative project between Wind Rose Garden, Flourish Garden Design, Art's Nursery, and Stone Event, the greenhouse acted as the focal point to the beautifully appointed garden.
"This was truly a team effort. From the concept to completion, the project was a labor of love," says Angela Drake Marketing Director for BC Greenhouse Builders. "We were approached by the design team Kimberley Loewen and Rose Blamey in October 2013 to participate in the garden. It was an easy yes and the end product exceeded our expectations."
From the 300 year old Belgian cobblestones provided by Stone Event, to the lush plant material installed by Art's Nursery, the booth attracted many passers-by with the desire to stay and listen to the string quartet.
The Cape Cod conservatory on display is a popular greenhouse and has been featured in many national publications including The New York Times, Wall Street Journal, Garden Design and Organic Gardening.
About Us
BC Greenhouse Builders Ltd., North America's leading greenhouse manufacturer, provides a full range of product lines from economical and functional, hobby and commercial greenhouse kits to complete turn-key luxury estate greenhouses and garden rooms. By incorporating high engineering standards that provide impressive structural strength, the greenhouse structure is unique due to its modular and adaptable design along with the highest capacity for wind and snow loads available on the market today. This family owned and operated business still maintains the high quality standards that were set more than 62 years ago and offers the largest selection of glass and polycarbonate greenhouse to suit all gardening needs, climate and budget.