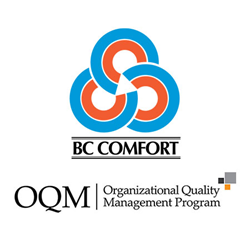 BC Comfort is the only mechanical contractor in BC to meet APEGBC's requirements for OQM certification. The OQM certification is representative of our commitment to excellence and ensuring quality is at the highest level."
Vancouver, British Columbia (PRWEB) March 28, 2014
BC Comfort Air Conditioning Limited, a Vancouver-based contractor specializing in design build as well as commercial and industrial HVAC, is pleased to announce they have become an APEGBC Organizational Quality Management (OQM) certified organization.
The Association of Professional Engineers and Geoscientists of British Columbia (APEGBC) is a licensing and regulatory organization that is responsible for the province's engineers and geoscientists. APEGBC maintains high standards for their members regarding professional practice and ethical conduct.
The OQM certification is a voluntary certification program designed to improve the quality management of practices at an individual and organizational level. According to APEGBC, OQM certified firms offer better quality management, customer satisfaction, marketing recognition, and improved efficiency.
"BC Comfort is the only mechanical contractor in BC to meet APEGBC's requirements for OQM certification." says Henry Leung, Senior Design Engineer at BC Comfort. "The OQM certification is representative of our commitment to excellence and ensuring quality is at the highest level."
Firms receiving the OQM certification are more apt to make changes that improve multiple aspects of their practice, which ultimately benefits their clients. This certification helps firms improve overall efficiency and effectiveness, better manage risk, and improve the quality management of their practice. The APEGBC sees the OQM certification as value-adding, and strives to have OQM certified organizations recognized for delivering higher quality projects and services, as well as the certification being used when procuring engineering services.
To learn more about BC Comfort's design build services, call 604-439-3344 or visit the company's website, http://www.bccomfort.com.
About BC Comfort Air Conditioning Limited:
For over four decades, BC Comfort Air Conditioning Limited has served Vancouver businesses with quality building services. BC Comfort provides service through all phases of a project, as well as after completion. With a commitment to providing sustainable comfort, BC Comfort offers HVAC, plumbing building automation, mechanical engineering, LEED & sustainable design, energy assessment & modeling, and design build services for commercial and industrial facilities. More information can be found via the company's website, http://www.bccomfort.com.