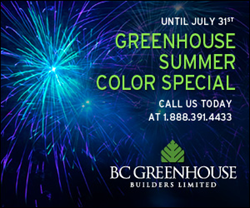 'People choose us for our strength and selection but remember us for our service,' says Angela Drake, Marketing Director for BC Greenhouse Builders.
Surrey, B.C. (PRWEB) June 24, 2014
BC Greenhouse Builders, leading North American custom greenhouse manufacturer of hobby, commercial and estate greenhouses is currently offering the best summer sale on record. With the coldest winter season for more than 20 years, many gardening enthusiasts are needing a push to get back into the ground.
"Many of our customers purchase greenhouses in the summer months to think forward to fall and extending their growing season. This is even more top of mind considering how long spring took to arrive this year," says Angela Drake for BC Greenhouse Builders. "This year the savings can be 5% higher than previous years."
From now until July 31st, customers can enjoy a green or brown greenhouse for the price of white. For those customers interested in a white greenhouse, the cost for the upgraded color will be a 100% credit.
"This is a chance for customers to buy the greenhouse of their choice," says Drake.
Not just for orchids anymore, the vast majority of greenhouse owners are utilizing the greenhouse for food production as well.
"Our polycarbonate greenhouses provide the perfect amount of light diffusion for hot summer days," says Drake. "We literally have tomatoes growing through the roof vents of our greenhouses."
For more information on BC Greenhouses and their line of Cross Country greenhouse designs, please click here.
About Us
BC Greenhouse Builders Ltd., North America's leading greenhouse manufacturer of hobby greenhouses, provides a full range of product lines from economical and functional, hobby and commercial greenhouse kits to complete turn-key luxury estate greenhouses and garden rooms. By incorporating high engineering standards that provide impressive structural strength, the greenhouse structure is unique due to its modular and adaptable design along with the highest capacity for wind and snow loads available on the market today. This family owned and operated business still maintains the high quality standards that were set more than 63 years ago and offers the largest selection of Cross Country glass and polycarbonate greenhouse to suit all gardening needs, climate and budget.