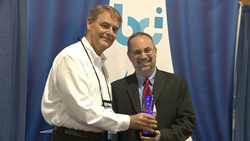 Philadelphia, PA (PRWEB) April 14, 2014
The 2014 Business Continuity Institute (BCI) North America Awards took place on Sunday March 30th as part of the Disaster Recovery Journal (DRJ) Spring World 2014. At the event, BCI recognized Strategic BCP® in two categories:
1. ResilienceONE® BCM Software as "Business Continuity Product of the Year"
2. Frank Perlmutter (CBCP/MBCI) as "Industry Personality of the Year"
Why ResilienceONE was awarded "Business Continuity Product of the Year": Since 2004 ResilienceONE BCM software from Strategic BCP has provided Business Continuity professionals a comprehensive, convenient way to manage risk, continuity, and resilience. It provides a simple way to achieve Business Continuity, Disaster Recovery, Business Impact Analysis, Risk Assessment, and Crisis Management—including guaranteed compliance with 30 leading industry standards—all within one cloud-based solution. Built upon a time-tested framework of simplified user input and powerful relational-database analysis, it is well-received by both clients and the industry, including nearly 70,000 end users and 98% client retention rate since product inception.
Why Frank Perlmutter was awarded "Industry Personality of the Year": As president and co-founder of Strategic BCP, Frank's outspoken and unequivocal passion for advancing the discipline of business continuity is evident throughout every aspect of his professional life. As hands-on practitioner/consultant, he demonstrates unique creativity in cost-saving BC practices. As BC industry evangelist, he leads several LinkedIn vertical market groups and advocates upgraded BC practices and profiles among the 6,000 practitioners (experienced and new) attending his scores of seminars. In 2013, he adapted his revolutionary BCP Genome™ to ensure full compliance with 30 industry standards for ResilienceONE users, then freely shared the principles with the industry, via seminar and white paper.
"Frank's foresight and business continuity planning and management solutions have long been praised in our industry, says BCI US Chapter President Doug Weldon (FBCI). "We congratulate Strategic BCP."
About Strategic BCP
Strategic BCP® represents a team of business continuity management specialists who empower organizations of all sizes to build cost-effective, action-based plans that can be implemented immediately in the event of downtime. The company's award-winning BCM software, ResilienceONE®, integrates risk assessment and management, BC plan development and maintenance, incident management, and compliance issues in one comprehensive easy-to-implement solution. It features proprietary algorithms and metrics that automate cumbersome tasks and provide comprehensive insight into an organization's risk profile. Strategic BCP complies with the U.S.-EU Safe Harbor Framework and the U.S.-Swiss Safe Harbor Framework. More information: http://www.strategicbcp.com.