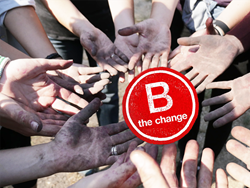 "Our B Corp status strengthens our mission by aligning us with the growing demand for businesses to serve the greater good." Brian Monahan, Cofounder
REDWOOD CITY, CA (PRWEB) October 03, 2016
Inflection (http://www.inflection.com), a pioneer in trust and safety solutions, has become a Certified B Corporation®. Being a B Corp™ means taking actions that consider all stakeholders – not just shareholders – in pursuit of economic, social, and environmental benefit.
"Becoming a Certified B Corporation signals our deep commitment to our values, which include trust, humility, and excellence," says Matthew Monahan, CEO of Inflection. "Taking this step means aligning our business model and purpose together to serve the common good."
Certified B Corps undergo rigorous evaluation by B Lab®, the nonprofit charged with certifying and supporting B Corporations and which inspires companies "to compete not only to be the best in the world, but to be the best for the world."
Inflection's products, workplace, and environmental initiatives were judged against comprehensive performance standards that support growing customer demand for companies to actively support social and environmental progress.
GoodHire, a wholly owned subsidiary of Inflection, played a significant role in the B Corp impact assessment through its mission to promote trust, safety, and fairness in hiring.
"We're creating the change we want to see in employment screening, where the traditional approach only perpetuates inequalities in hiring," says Brian Monahan, Cofounder of Inflection and GoodHire. "Our B Corp status strengthens our mission by aligning us with the growing demand for businesses to serve the greater good."
Other ways Inflection works to "Be the Change" include commitments to privacy and data ethics, to charitable giving, to environmental sustainability, and to community giving, particularly through the Pledge 1% initiative and the Namaste Foundation, which owns 10% of Inflection.
Inflection and GoodHire join 1800 other Certified B Corps working to solve social and environmental problems, meet higher standards of performance, transparency and accountability, and consider the impact of decisions on employees, suppliers, community, consumers, and the environment.
About Inflection
Inflection is a trust and safety platform for the blended online and in-person connections we make today. Since 2006, we've organized more than a billion public records into solutions that verify identities and check backgrounds while safeguarding privacy. As a Certified B Corp, we strive to advance ethical information practices in hiring, the on-demand economy, and government data.
About GoodHire
GoodHire is the background check company for people who care about people. We humanize the background screening process by helping both employers and job candidates build relationships based on mutual trust, safety, and fairness.
About B Corporations
Certified B Corporations are leaders of a global movement of people using business as a force for good. They meet the highest standards of overall social and environmental performance, transparency and accountability and aspire to use the power of business to solve social and environmental problems. There are more than 1,700 Certified B Corporations in over 130 industries and 50 countries with 1 unifying goal – to redefine success in business.