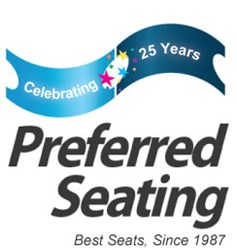 Sacramento, CA (PRWEB) December 10, 2013
The teams have been determined and the 2014 BCS National Championship tickets are on sale for the January 6th game at the Rose Bowl in Pasadena as well as all college bowl game tickets including the Rose Bowl, Sugar Bowl, Fiesta Bowl and Orange Bowl. Fans looking to buy BCS Championship tickets online need to use caution because of the high incidence of fraudulent tickets expected to be sold for the game. The ticket experts at Preferred Seating have been selling BCS tickets since the first BCS National Championship game in 1999 and urge fans to take extra care this year because of counterfeit tickets that are prevalent at these games.
All of the college bowl games experience some degree of ticket fraud including both counterfeit tickets and those that have been resold multiple times. The biggest problem with bad tickets will be at the Florida State vs. Auburn BCS National Championship game in New Orleans and the Rose Bowl in Pasadena with the Stanford Cardinal vs. Michigan State game. Ticket prices for both games are high enough to draw interest from some of the largest ticket counterfeiters in the country.
The best advice for fans is to only buy BCS tickets only from a reputable ticket service. That means stay away from Craigslist or anyone they don't know when buying from a private party. Printers have gotten so good that the experts have a tough time telling a real ticket from a counterfeit until it is scanned at the door. Even then crooks have been known to add a valid barcode onto a counterfeit ticket and the fan doesn't find out until the valid ticket holder shows up with security and boots them from the game.
The surprising thing is it is easy to do due diligence to check out the reputation of a ticket service and only takes a few minutes. Here are 5 tips to put you at ease when buying BCS Championship Tickets online.
1. First take a look at the Better Business Bureau record for the business. You can find out how long they've been around as well as what complaints are on file. The fewer complaints the better and how they treat those complaints is equally important.
2. Next, type the business name into the browser search box and see what comes up. If nothing comes up that's not a good sign they've been around long enough to build up an online reputation.
3. Check out the company's contact page. Do they have a physical address, phone number and do they actually answer the phone? Call and ask a few questions about the tickets and see if they know what they are talking about for an extra level of confidence.
4. Don't put too much into the company guarantee. Making sure you can trust the company to get you into the game is more important than the fact they'll give you a 100 % refund if they sell you a bad ticket. Ask for an after-hours number in case there's a problem at the door. If they won't give you one, that's another potential problem.
5. Watch out for hidden service fees. A large number of BCS Championship ticket sites lure fans with low ticket prices only to tack on a large service charge during the checkout process. BCS ticket prices are high enough already without the extra fees.
With about 5 minutes of checking online and a quick phone call fans can learn enough about a company to make an informed decision as to whether they are trustworthy or not. And that is just as important as the ticket prices when the game is important and travel is required.
About the Author
Greg Cullen is one of the owners of Preferred Seating where fans have been able to buy premium seating for concerts, sports and theater events since 1987. Preferred Seating is a proud member of the Better Business Bureau where they have had an A+ rating since they became members in 1997. Preferred Seating is not associated with any band, venue, promoter and buys and sells tickets as a ticket broker on the secondary ticket market through the website PreferredSeat.com.