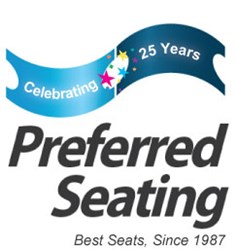 Sacramento, CA (PRWEB) December 11, 2013
Florida State and Auburn football fans looking for 2014 BCS National Championship tickets today may get discouraged if they can't buy tickets at face value through Ticketmaster.com because the game will likely sell out in minutes. But they do have an alternative with secondary ticket sites like PreferredSeat.com where they provide seating on both sides of the field at the Rose Bowl so fans can lock in seats with other fans. And with the discount code "bcsfreeship" they'll have their tickets delivered overnight for free.
Secondary ticket sites have been around for decades and provide a service to both fans looking to sell extra seats, and those looking to buy tickets for concerts, theater, and major sporting events like the BCS National Championship. At Preferred Seating they partner with season ticket holders to sell BCS Championship tickets to fans that otherwise would not be able to obtain tickets by other means. Fans are guaranteed authentic tickets without extra service charges through their online retail site, PreferredSeat.com.
Ticket prices for the 2014 BCS Championship game with the Florida State Seminoles and Auburn Tigers at the Rose Bowl are at a three year low and that's good for fans still looking for tickets. And there's an ample supply of good seats for fans to choose from at PreferredSeat.com where fans have been able to buy BCS National Championship tickets and other event tickets since the first game was played in 1997.
BCS National Championship ticket prices look like they will stay relatively stable this year but there's always a chance they may go up. Like the airline tickets that have to be booked for travel to the game this may be the best time to lock in those seats before the holidays. Rose Bowl tickets as well as all college bowl game tickets can be found online at PreferredSeat.com.
About Preferred Seating
Preferred Seating has been a place where fans have been able to buy premium seating for concerts, sports and theater events online since 1987. Preferred Seating is a proud member of the Better Business Bureau where they have had an A+ rating since they became members in 1997. Preferred Seating is not associated with any team, venue or the NCAA and buys and sells tickets as a ticket broker on the secondary ticket market through the website PreferredSeat.com.