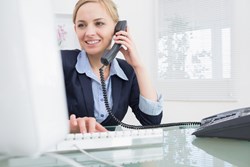 Ongoing disruptions throughout your workday can make it hard for employees to concentrate.
Seattle, WA (PRWEB) February 20, 2014
The growing use of automated phone systems across the United States has caused the birth of many providers. Business Communications Service (BCS) is just one such company. They recently produced an article addressing the questions that small businesses should ask when considering purchasing an automated phone system.
The article gives the criteria for accurately judging whether or not your small business has grown to such a point that investing in an automated phone system will actually save you time and money. One of the key indicators which they state should be carefully thought about is whether or not the incoming phone calls throughout the workday are disrupting the work of the employees.
The article is remarkably unbiased in its production considering that it is written by a company that sells automated phone systems. The post states that some companies may just not be at the point where purchasing a system makes sense from a monetary standpoint. Others, even very small businesses with little staff, are told to consider that if they are consistently receiving a high volume of calls inquiring on general topics, such as hours of operation or a transfer to another employee, it might be time for an automated system.
"The ongoing disruptions through your workday can make it hard for your employees to concentrate. This can cause office chaos and ultimately, lost money," a company representative explained.
About BCS, Inc.:
Business Communication Services, Inc. has been serving the Puget Sound, Seattle Metro and North Sound area for over 10 years. Headquartered in Everett, Washington, BCS is a full service PBX and telephone system specialty group providing sales, service, repair and voice and data cable wiring for small, medium, and large business.
http://www.seattlephonesystems.net/
2525 Broadway #3003
Everett, WA 98201
425-265-1117