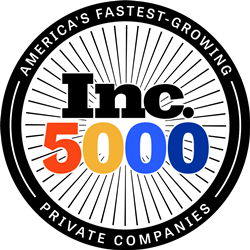 The 2021 Inc. 5000 list feels like one of the most important rosters of companies ever compiled.
FORT LAUDERDALE, Fla. (PRWEB) August 17, 2021
BDEX, the first and largest data exchange platform in the U.S., has been recognized for the second year in a row on the annual Inc. 5000 Fastest-Growing Companies List, the most prestigious ranking of the nation's fast-growing privately-owned companies. Ranking at #867, BDEX accomplished an impressive 3-year revenue growth of 561 percent.
Since its founding in 2014, BDEX's platform has become the preferred source of high-quality, verified consumer data for hundreds of companies worldwide. As third-party data and cookies continue to depreciate, BDEX's technology solutions have become increasingly valuable to companies looking to reach their target audiences and create meaningful connections with potential consumers in a privacy compliant manner.
"BDEX is thrilled to be honored for the second consecutive year with the top U.S. companies across every field," said BDEX's Co-Founder and CEO David Finkelstein. "It is truly a team effort to reach this achievement, and I would like to commend the hard work of our team for continuing to push us forward in our growth."
Not only are the companies on the 2021 list very competitive within their markets, this year's roster also proved especially resilient and flexible given 2020's unprecedented challenges. Among the 5,000, the average median three-year growth rate soared to 543 percent, and median revenue reached $11.1 million. Together, those companies added more than 610,000 jobs throughout the past three years.
"The 2021 Inc. 5000 list feels like one of the most important rosters of companies ever compiled," said Scott Omelianuk, editor-in-chief of Inc. "Building one of the fastest-growing companies in America in any year is a remarkable achievement. Building one in the crisis we've lived through is just plain amazing. This kind of accomplishment comes with hard work, smart pivots, great leadership, and the help of a whole lot of people."
The complete list, including company profiles and an interactive database that can be sorted by industry, region, and other criteria, can be found at http://www.inc.com/inc5000.
About BDEX
Established in 2014, BDEX is the first ever Data Exchange Platform (DXP) and is one of the Inc 5000 fastest-growing privately-owned U.S. companies. Combining hundreds of data sources in real-time into one unique data infrastructure, BDEX offers the most powerful, most accurate identity graph available in the U.S. The company also provides privacy-focused machine learning modeling technology that allows marketers to effortlessly scale up their target audiences. BDEX empowers B2C companies to use the power of data to understand consumer behaviors and intents, helping them reach the right people at the right time. Find out more at https://www.bdex.com.