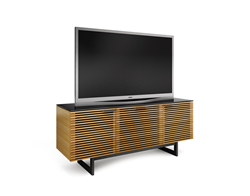 Corridor is one of BDI's most popular designs, with enthusiastic response to its strong design aesthetic, timeless appeal and contemporary features.
Chantilly, VA (PRWEB) February 21, 2014
Home furnishings design leader BDI is adding a new model and wood finish to its popular Corridor Home Theater collection. Corridor 8177, the new 65" wide three-compartment cabinet, will begin shipping this month. As the newest design in the collection, Corridor 8177 includes a center drawer that opens to reveal a full-width shelf that allows for the optimal placement of a soundbar. Measuring 28.25H x 65W x 20.25D inches, it will hold up to a 70'' television, while providing ample room for storage. Both the Corridor 8177 and the four-compartment Corridor 8179 are now available in either a rich chocolate-stained walnut or the new white oak finish.
Designed by Matthew Weatherly, the Corridor collection features handcrafted solid walnut or oak louvered doors, which provide IR-remote access and allow sound to flow freely. The top of the cabinet is a black, micro-etched glass surface that is fingerprint-resistant and provides a stunning contrast to the solid wood doors. To maximize component life, Corridor is fully vented including a unique BDI feature that dissipates heat under the floating glass top. Integrated cable management helps keep everything organized and removable back panels make for simple setup and maintenance. Hidden wheels allow for easy movement and convenient component access.
"BDI is a leader in developing furniture solutions that accommodate the needs of soundbars. Expanding our popular Corridor collection with model 8177 was a logical progression," said Bill Becker, BDI's Design Director and CEO. "Corridor is one of BDI's most popular designs, with enthusiastic response to its strong design aesthetic, timeless appeal and contemporary features. The addition of this new model and the introduction of the new white oak finish will give the collection even greater appeal and versatility."
Corridor 8179, which was introduced in 2013, is a wider, four-compartment cabinet featuring a large center compartment with an adjustable shelf to accommodate a wide range of speakers or components. The cabinet includes two side compartments that include an adjustable shelf, providing discreet speaker placement for left- and right-channel sound separation. With measurements of 28.25H x 79.25W x 20.25D inches, the 8179 can hold a television up to 85'' wide.
About BDI:
BDI is a premier designer and manufacturer of high-performance furniture and an industry leader in home theater, office and modular shelving systems. Guided by the philosophy that everything has its place, BDI's furniture combines great design with innovative functionality to seamlessly integrate technology into the home and office environments. BDI products are available through leading furniture and electronic retailers throughout the United States, Canada, the UK and elsewhere. To learn more, visit http://www.bdiusa.com.