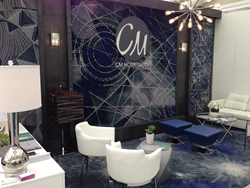 - I can't imagine how it could be better!
San Diego, CA (PRWEB) April 29, 2015
For the first time, CM Hospitality Carpet participated in the BD West Trade Show hosted annually in the spring at the San Diego Convention Center. Not only was this CM's debut to this show, but this was the debut of CM's newly constructed 10' x 20' booth showcasing their newest design collection Radiant Energy. The gray hand waxed paneled walls framed the new collection and was enhanced with up and down directional lighting along with custom sconce lighting. The booth was completed with a custom cut hanging acrylic sign showing CM's new logo. CM was formerly known as Clayton Miller Hospitality Carpets and is still transitioning into their new brand image and persona.
"The new booth was absolutely beautiful, eye-catching, elegant, and comfortable…" says CM's Denver sales rep, Ellen Armer. On Thursday, Ellen was able to have some one-on-one time with one of her top clients, Bray Whaler International in the early morning meetings which is a special feature to this show unlike BDNY trade show. CM's modern white leather furniture was very inviting to guests who were weary and had been on their feet at the show all day.
"The booth looked spectacular…I was so excited to see a plan come to life." says Lacy Price, the Marketing Director for CM who designed and had the new booth custom built. Price worked with long time partner and trade show veteran, Micheal Antoskow of Complete Exhibits to construct the new booth layout. "The lighting and the décor just complimented our new patterns so well...it just all came together so nicely." The booth featured a cosmic feel with a star burst chandelier and chrome sconces.
"The design of the booth added a dimension that speaks to the quality of CM Hospitality Carpet; upscale looking, innovative design and very approachable." observed Tina Lefebvre, CM's Chicogo Sales rep.
BD West is considered a more laid back show compared to the fall show in New York City, however it doesn't lack in its own style or prestige. Next year's event promises to be even bigger due to it has been moved to Los Angeles to attract a larger number of hospitality designers and procurement agencies.
The main purpose and theme of the booth was to display CM's bold new carpet collection, Radiant Energy which consists of 7 large scale patterns made with 100% solution dyed nylon. All of the patterns shared a common color palette of bold blues and misty greens to perform in high traffic hospitality public spaces. Ellen Armer explained the affect of the new carpet collection in combination with the new booth setup, "Our amazing and dynamic designs were displayed in a way that really showcased each individual pattern and texture, as well as how effectively a group of patterns can be combined. I can't imagine how it could be better!"