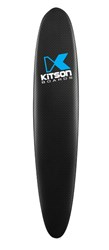 Add Kitson Paddle Boards to current stores inventory or rental business
Use Kitson Paddle Boards in SUP yoga or related fitness business
Miami, FL. (PRWEB) August 29, 2013
Kitson Boards, Inc. offers a number of ways to partner SUP brands - retailers, rentals or just starting out, they now offer great incentives for all types of businesses.
Kitson Boards, Inc. wants to help others expand their paddle board related businesses with their ultra light and durable carbon fiber boards. The company carries paddle boards and surfboards crafted for all types of water and their ability to add custom touches like logos and colors can add appeal to customers and brand building.
Kitson Boards offer affordable packages that will help start or add to current rental or water sport business. Kitson Paddle Boards can be used at waterfront SUP rental business, or use the specifically crafted yoga paddle boards in SUP yoga classes. Ask about adding your logo to your paddle boards for a more cohesive feel.
To learn about all they ways to become a Kitson Board Dealer email Mike (@) KitsonBoards.com or call at 1-877-928-8909.
Kitson Boards, Inc. is the sister company of AmazingUniverse.com Inc. which is responsible for Wine Rack Store.com and was founded by Michael and Denise Kitson. The Kitson Boards, Inc. headquarters is located in Olympia, WA. All boards are crafted out of the ultra durable and long lasting carbon fiber material. All production of surfboards, paddle boards and wakesurf boards, as well as the people behind the brand are based in North America and is the only board producer to do so. Kitson Boards prides itself on outstanding customer service and only the finest in recreational boarding and accessories. Free shipping is available throughout the continental USA.