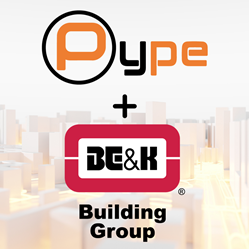 "BE&K already partners with Autodesk, and Pype's integration with their BIM 360 platform really opened the door for this agreement," said Kevin Bredeson, Vice President of Preconstruction and Technology at BE&K Building Group.
WASHINGTON (PRWEB) June 15, 2020
Pype, a software-as-a-service (SaaS) provider of automated solutions for construction risk management, has entered into an enterprise agreement with BE&K Building Group, allowing the contractor unlimited usage of Pype's AutoSpecs platform.
"BE&K already partners with Autodesk, and Pype's integration with their BIM 360 platform really opened the door for this agreement," said Kevin Bredeson, Vice President of Preconstruction and Technology at BE&K Building Group. "It's our people that ensure our projects are delivered on time and exceed client expectations, so we want to provide them with the tools necessary to achieve that vision by the most efficient means possible."
BE&K's primary purpose for AutoSpecs in their workflow is to help project teams create comprehensive logs of project requirements, including submittals, closeout requirements, mock-ups, tests and inspections, and more. By automatically scanning uploaded specification documents, Pype's algorithms identify those requirements in a matter of minutes, then provide interfaces for users to review those requirements, adjust and update them as new specifications or addenda are released, and export all of that data to BIM 360 to track throughout the life of the project.
"AutoSpecs is our most popular platform, and after personally experiencing the submittal process first hand, it's easy to see why," says Sunil Dorairajan, Pype's co-founder and CEO. "These submittal logs can be the difference between a contractor staying contract compliant, and a contractor losing money in litigation or liquidated damages. In the past, the creation of these logs was left to entry-level project engineers using software that wasn't meant to create submittal logs."
"A driving factor in choosing Pype was their solution-focused approach to construction technology," said Bredeson. "They identified a specific issue with the submittals process in the industry, and addressed it with a precise and comprehensive solution keeping the end users in mind."
Pype AutoSpecs provides BE&K with more than just a submittal identification system. Its versioning feature digitally examines bid specs so estimators can easily identify requirements or products that may impact cost and/or schedule.
"The versioning feature does more than renew confidence in our estimates," Bredeson told us. "During the bidding process, we can use this data to initiate conversations with the design team and owners about alternatives and potential issues, helping us stand out as a proactive, solutions-focused contractor. That goes a long way toward earning project owners' trust and building relationships that last."
"Construction requirements change constantly on a project, but particularly during bidding and estimating," said Karuna Ammireddy, Pype's CTO and co-founder. "AutoSpecs' streamlined version upload and comparison tool allows contractors to keep up with project changes without letting requirements fall through the cracks. An unlimited enterprise agreement, such as the one with BE&K, ensures that those benefits can be extended to the estimating department for use on every project, increasing their ROI. Ultimately, they get more value out of AutoSpecs, can bid on and win more projects, and deepen their relationships with project owners."
About Pype
Pype is the construction industry's first SaaS provider for submittal log management and project closeout. By using patented AI and machine-learning algorithms, our platforms liberate project teams from error-prone spreadsheet workflows and ensure contract compliance from precon through closeout. These cutting-edge solutions present unprecedented insights on spec and closeout data to help teams extract actionable information from specifications and plans to close communication gaps between design, construction, and operations teams. Over 40% of the ENR top 400 use AutoSpecs and Closeout on projects coast-to-coast to provide a higher level of quality assurance, efficiency, and risk management using Pype's exceptionally accurate and richly integrated software technology.
About BE&K Building Group
BE&K Building Group offers construction management, design-build, general contracting, preconstruction, and client advisory services nationally in the aerospace, advanced manufacturing & distribution, biotech & pharma, food & beverage, healthcare, higher education, mission critical, and commercial sectors. The company has received dozens of national and regional awards for design and construction excellence by delivering on its mission to safely build complex projects anywhere and develop lasting relationships with its customers by consistently exceeding expectations. Additional information is available at bekbg.com.