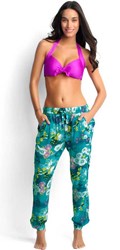 With thirty years of experience helping holiday shoppers get the best presents for their families, registering for our eNews now will save a lot of time in the search for the hottest gifts this summer
Melbourne, VIC (PRWEB) December 16, 2013
In addition to the swimwear megastore's newly revamped website, Swimwear Galore are now offering their customers tips about the top beach inspired gift ideas this holiday season. An eNews form on the site's main page allows subscribers to receive hints on what the best swim-related presents are for men, women and children in the weeks leading up to Christmas. The company's Marketing Manager Mrs. Caz Skudar, says of the email insights, "With thirty years of experience helping holiday shoppers get the best presents for their families, registering for our eNews now will save a lot of time in the search for the hottest gifts this summer."
Christmas Day is usually filled with warm sunshine for Australians, so the gift exchange often includes some type of beach or swim related item. With end of year festivities upon the country, the usual pressure of holiday shopping has begun in locating the ideal present for those spending a hot summer in the sun.
Having three decades of experience in helping Australians find the top beach inspired gift ideas for Christmas, Swimwear Galore have included an eNews form sign-up on their newly relaunched website, located at the bottom of the home page. The free subscription gives customers hints about what "the top presents are for an Australian summer; based on our knowledge of popularity and trends for all members of the family" says Mrs. Skudar.
The Marketing Manager for Victoria's largest swimwear retailer further explains that, in the weeks leading up to Christmas, the "email series will allow subscribers the benefit from our expertise in what beach and swim-related gifts are the best to give to others. For example, we provide hints specifically for women, for men, and fun things for children, too." Mrs. Skudar then remarks that their tips often save shoppers a lot of time in the search for the perfect gift.
The subscription to Swimwear Galore's eNews provides more than just holiday shopping hints. "Our subscribers are the first to know about the latest arrivals, sales and competitions," comments Mrs. Skudar, "as well as receive an extra special gift for their birthday."
Revealing the top beach inspired gift ideas has been timed with the relaunch of their website because "we've made browsing and buying so much easier with our new features, such as Shop by Shape, by Trend, by Catalogue and Mix & Matching separates." This means when subscribers receive the Christmas gift idea emails, they'll be able to locate the presents online instantly.
Mrs. Skudar also mentions buying holiday presents with the Australian-based company is risk free, "If for some reason our customers aren't happy, we offer hassle free returns for up to 100 days from purchase. So there's no need to worry about the gift recipient not liking their present, it can be returned or exchanged without any problem." Furthermore, the swimwear retailer offers Christmas gift cards, as well as free shipping within Australia for purchases of $100 or more.
Helping ease the pressures of Christmas shopping, the team at Swimwear Galore are revealing the top beach inspired gift ideas for their eNews subscribers. The free subscription offers insights into the company's decades of experience therefore "cutting down on the amount of time someone spends searching out the best swim or beach-related Christmas present. It's important to sign-up today to get all our tips delivered in time for one's holiday shopping." The Victorian-based beachwear supplier offers a large selection of products on their newly relaunched website, including infant, children, teen, men's and women's swimwear, along with maternity and plus-size options. Their holiday gift buying tips can also be used at any of their retail locations in Cheltenham, Malvern, Fitzroy, Geelong, Sorrento and Mornington.
About Swimwear Galore
Swimwear Galore began 30 years ago with just one small rack of garments in a family owned fabric shop. Since then, it has become Australia's largest swimwear retailer, offering the latest trends and over 70 of the world's leading brands all year round.
The key to their success is recognising that every 'body' is different, and that every 'body' is beautiful, which ensures they cater for all shapes and sizes that provides the most options for the entire family. To learn more about Swimwear Galore, click here.