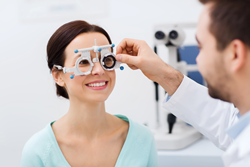 Specialist eye care services with the latest technology - from routine eye examinations to the diagnosis and treatment of eye diseases and conditions.
LONG BEACH, Calif. (PRWEB) September 20, 2021
Excited to meet the demand for high quality eye care in Long Beach, the team at Beach Eye Medical Group offers specialist eye care services with the latest technology - from routine eye examinations to the diagnosis and treatment of eye diseases and conditions.
The doctors each have their own expertise in the field. Dr. Ling Bei is a fellowship-trained glaucoma and cataract surgeon. She provides advanced medical, laser, and surgical techniques and has a particular interest in minimally invasive glaucoma surgery. She also performs cataract surgery to reduce the need for glasses.
Dr. Robert Rende's career spans more than two decades. A diplomate of the American Board of Ophthalmology, he is a specialist treating and managing eye disease and an expert with ophthalmic lasers.
Dr. Donald Schwartz is a renowned cataract surgeon and has taught on the subject of optics extensively and continues to do so. Highly accomplished and respected, he has been on the Board of Directors at the American Board of Ophthalmology, the Board of Trustees at the American Academy of Ophthalmology, and the Past President of the California Academy of Eye Physicians and Surgeons.
Dr. Matthew Sloan is a board-certified ophthalmologist who serves as an Associate Clinical Professor of Ophthalmology at the Jules Stein Eye Institute at UCLA School of Medicine. His family arrived in Long Beach in 1920 and he has been serving the community for over 40 years.
Our Long Beach location provides comprehensive eye care services in a newly remodeled, state-of-the-art facility at 2650 Elm Avenue, Suite 108, Long Beach, CA. 90806. Located south of the Long Beach Memorial Medical Center at the Elm Medical Plaza, free parking is available. We are open from 8.30 am to 5 pm and patients are encouraged to call for an appointment. Walk-ins are also welcome.
About Beach Eye Medical Group
The latest eye-care technology combined with decades of experience makes Beach Eye Medical Group a center of excellence for eye care.Our team of board-certified doctors is led by Dr. Samir Shah, a specialist in complex eye surgery with a sub-specialty in cataract, cornea, and refractive surgery. Our physician team includes Dr. DruAnn McCluskey, who provides care for a variety of eye conditions, from cornea and external disease to dry eye and glaucoma. Dr. Kevin Jwo specializes in treating cataracts and glaucoma through a variety of medical, laser, and surgical techniques.
Dr. Tae Kim has been in private practice for more than 25 years and has invaluable experience in managing complex glaucoma and cataract cases. Dr. Wenjing Liu specializes in disorders of the eyelids and eyes, and she also includes cosmetic surgery. Dr. Hema Ramkumar specializes in eye problems such as macular degeneration, retinal detachments, and diabetic retinopathy. Dr. Khalil Semaan is an optometrist that is glaucoma certified with the highest level of licensure for diagnosing and treating ocular disease in California, in addition to fitting glasses and contact lenses.
Visit http://www.beacheye.com or call today 562-427-5409 to schedule an appointment.
Our address is:
2650 Elm Ave Suite 108,
Long Beach, CA 90806