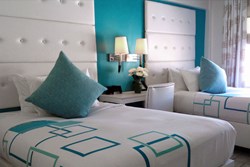 "In January, while much of the country is dealing with frigid temperatures and snowstorms, South Beach is sizzling as Art Deco lovers immerse themselves in a 3-day nonstop celebration of Art Deco culture."
Miami Beach, FL (PRWEB) October 23, 2013
Art deco aficionados from across the country and around the world who plan on flocking to Miami's South Beach so they can experience one-of-a-kind Art Deco Weekend 2014, can now book their accommodations at the luxury boutique Beacon Hotel and stay in the heart of the Art Deco district – while saving big.
For a limited time, guests who book their Art Deco Weekend 2014 stay with Beacon Hotel will save 10% on their 3-night stay, 15% on their 4-night stay, and 20% on their 5-night stay. Plus, they'll enjoy the hotel's renowned Art Deco-inspired design and architecture, a perfect location right in the heart of the Art Deco district, and a range of complimentary amenities that include:

hot daily breakfast
Wi-Fi access
beach chairs and beach towels
local calling
personalized "VIP" concierge service
24 hour access to the hotel's Fitness Center and Business Center
valet laundry service
turndown service
exclusive rooftop access
…and more
"In January, while much of the country is dealing with frigid temperatures and snowstorms, South Beach is sizzling as Art Deco lovers immerse themselves in a 3-day nonstop celebration of Art Deco culture," commented Chris Regalado, Beacon Hotel's Revenue Manager. "What's more, our hotel is renowned for its rich Art Deco ambiance and themes, and we're widely considered to be the best-located luxury boutique hotel in all of South Beach. Our guests will literally be steps away from all of the fun and excitement, and can look forward to an unforgettable adventure – and to saving big thanks to our special stay more, save more promotion!"
Guests, who want to stay more and save more with the Beacon Hotel, so that they can enjoy Art Deco Weekend 2014 to its fullest, can check room availability and securely book online at http://www.beaconsouthbeach.com/miami-extended-stay-hotels.htm. While visiting the Beacon Hotel website, they can also read guest reviews, explore 360 degree video tours, browse through high-resolution photos, and more.
For more information or media inquiries, contact Christopher Regalado, Revenue Manager, at chris(at)beaconsouthbeach(dot)com or 305.674.8200.
About the Beacon Hotel
Renowned among chic and stylish Miami Beach hotels, and located in the heart of South Beach, the Beacon Hotel is a Boutique Art Deco Hotel just steps away from all of the best entertainment that South Beach has to offer: Sun, Sand and Sea. With the clear blue waters of the Atlantic directly across its front doors, the Beacon Hotel offers the perfect ambiance for a breathtaking beach vacation, featuring world-class amenities, an exquisite restaurant and tantalizing nightlife. Guests enjoy an extraordinary gastronomic experience with live music entertainment that will elevate their spirits with the melodies that fill the air. With an array of beach side water sports, state-of-the-art fitness center and highly advanced business center, Beacon Hotel is a full-service boutique South Beach Hotel.
Learn more at http://www.beaconsouthbeach.com.
###