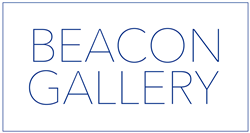 "We're proud to feature this important show with Nedret Andre, especially as we also celebrate our 5th anniversary," notes Christine O'Donnell, Owner and Director at Beacon Gallery. "Her work is a testament to our mission to shed light on critical issues affecting and shaping our society."
BOSTON (PRWEB) October 19, 2022
Beacon Gallery is pleased to announce its upcoming exhibition The Air We Breathe, featuring the work of local artist Nedret Andre. This solo exhibition runs from November 3 to January 5, 2022 and will focus on the importance and fragility of seagrass (also known as eelgrass) and its role within our ecosystem, particularly how seagrass preservation is connected to our everyday lifestyle decisions, through a series of abstract paintings and sculptures.
"From the surface, everything may look serene, however, underwater there are so many variables affecting water quality and the life forms these habitats support," says Andre. "My goal, through my art, is to encourage audiences to become more aware and get involved in shaping this narrative of the role we play as a society and our interdependency with the natural environment. We all have the ability to make an impact to improve and preserve the coastal environment for future generations."
This exhibit will feature a collection of Andre's works that showcase a visual aesthetic aimed to draw the viewer's attention to the crucial nature of our symbiotic relationship with this delicate plant and its environment. Namely, that seagrass oxygenates the ocean, serves as a carbon sink, and provides vegetation and nourishment for sea creatures. Andre's brush strokes in her paintings bridges the mathematical and emotional by depicting the beauty and presence of the endangered seagrass in water, using a range of jewel tone colors, rhythmic line work and shapes, and subtle textures. She also draws upon her field work and research of coastal New England.
Paired with the unveiling of The Air We Breathe; Beacon Gallery also proudly celebrates its 5th anniversary at this time. First opened in November 2017 in the center of Boston's SoWa district, Beacon Gallery continually strives to provide the public with shows that bring emphasis to a wide spectrum of social justice efforts, both local and beyond.
"As a gallery focused on social impact, we are proud to feature Nedret Andre's latest show and fully support her messages of ecological awareness," says Christine O'Donnell, Owner and Director at Beacon Gallery. "Celebrating our 5th anniversary in conjunction with this important show ultimately epitomizes who we are and why we do what we do. Andre's work is a testament to our mission of shedding a contemplative light on critical issues affecting and shaping our society, especially with the precarious state of our environment."
Through its continued collaborations with a number of nonprofit organizations and special-interest groups, Beacon Gallery is pleased to stand as a 'beacon' for the "artivist" community. With strong belief that art holds the power to inspire tangible change, Beacon Gallery welcomes all to join in its 5 year milestone, celebrating art and community and all those who embolden such change and encourages others to participate (event takes place November 3rd at 6 pm at the gallery).
About the Artist
Nedret is a contemporary painter and blogger working in South End, Boston. Her abstract oil paintings are process-based; exploring color, texture, mark-making, gestural drawing, and experimentation of oil paint through drips and flows. Inspired by the urban landscape of New England which has evolved from its coastal marshland and Sienese frescos by Ambrogio Lorenzetti, her art particularly explores the vitality of seagrass for oxygenation. She actively participates on restoration projects and collaborations with local marine ecologists, and a portion of each sale or commission from her work is donated to nonprofits that advocate for ocean awareness and seagrass conservation, including North and South Rivers Watershed Association, The Great Marsh Project, Women Working for the Oceans, Salem Sound Coastwatch, Cohasset's Center for Student Coastal Research, Mass Sierra Club, and Woods Hole Oceanographic Institute. She earned her BFA in Painting at Massachusetts College of Art and received her MFA in Visual Arts from Maine College of Art.
Upcoming Events
We're excited to host "Science-Activism-Collaborations" Night with Nedret Andre, Samantha Woods, Executive Director of the North and South Rivers Watershed Association, Sara Grady, Ecologist at Massachusetts Bays National Estuary Partnership and North and South Rivers Watershed Association, and Dr. Randall Hughes, Professor in the Department of Marine and Environmental Sciences (MES) and Associate Dean for Equity at Northeastern University (Thursday, December 1st at 6 pm); SOWA Winter Festival Sunday makerspaces (Nov. 27 and Dec. 11 from 11am to 4 pm); and an Artist Talk also featuring an in-gallery performance (Dec. 10 at 4 p.m.).