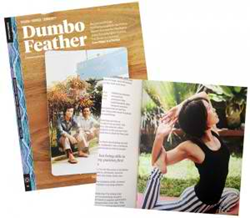 I enjoy transforming people's smiles and embracing new advancements using world class techniques.
Melbourne, Australia (PRWEB) April 14, 2014
Extraordinary people seeking refuge in Australia are interviewed in the 38th issue of the well-known Dumbo Feather magazine. Beacon Cove Dental's principal dentist Fern White shares her story of equality and strength; she and her family were refugees of the Vietnam War and sought a better life in Australia.
Berry Liberman, Editor at Dumbo Feather magazine, is also Dr. Fern's patient. Dr. Fern graduated with honours from the University of Melbourne and completed additional years of study through international courses in Orthodontics and Implant Dentistry. The principal dentist explains "I enjoy transforming people's smiles and embracing new advancements using world class techniques."
Dr. Fern White has also been studying and practicing the art of yoga for a decade and has now fully implemented her asana and mindfulness experience into her Port Melbourne clinic. She adds "It's common knowledge that most patients find any dental procedure extremely stressful, so I use my skills in breath-work and relaxation to calm patients before any treatment; the body cannot be in a physiologically stressed state when one is breathing slowly and steadily."
At Beacon Cove Dental clinic Dr. Fern and her team offer a wide range of services including preventative exams like diagnostics, professional hygiene, gum and jaw therapy, as well as cosmetic dentistry covering teeth whitening, crowns, veneers, and teeth straightening among others. Moreover, advanced therapies are also provided like: implants for teeth replacement, wisdom tooth extraction, jaw bone regeneration & gum lifts, root canal therapy, and complex smile makeovers.
And all the above surrounded by Dr. Fern's yoga mindset: Music & movies to help patients relax, digital xray for fast diagnosis, laser for quick healing, photos to reveal & plan together, and microscopes for precise treatment. Dr. Fern adds "we strive to provide optimum lifetime dental care for our patients. This includes creating and maintaining dental health, function and aesthetics.
Our philosophy of care governs everything we do for you. Our aim is to help you take pride in your dental health and love your smile."
To view the article about Fern White in Dumbo Feather magazine, click here. Or for a calming, comfortable, and mindful experience book an appointment at Beacon Cove Dental Clinic today. Visit http://www.beaconcovedental.com.au/location-contact/
About Beacon Cove Dental
Beacon Cove Dental believes oral health is a critical part of overall health and that accessing state of the art dental treatments should be simple and easy for everyone.
Furthermore, Beacon Cove Dental feels that their clients should have full control of their treatment and be active in its planning. The all-female team of practitioners and assistants believe in treating the whole person rather than just their mouth. In spending the time working together with patients, their dental goals are achieved.
Beacon Cove Dental is also active in creating a completely environmentally sustainable and 100% Green Powered practice. To learn more about Beacon Cove Dental, please click here.