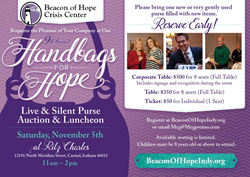 "Southport Police Department is thrilled to be a recent new partner of Beacon of Hope Crisis Center. We are looking forward to being a part of Handbags for Hope and collaboratively making a difference!" -Chief Vaughn
Carmel, Indiana (PRWEB) October 19, 2016
A unique charity auction that combines the love of elegant purses, accessories and gifts with a desire to help victims of domestic violence will mark its 9th annual event at the Ritz Charles in Carmel on Saturday, November 5, from 11 a.m. to 2 p.m.
The event will feature celebrity appearances and the donation of some celebrity purses to be auctioned, including some beautiful offerings from Laura George and her daughter, Lauren George, and Alpha Blackburn. WTHR's Chuck Lofton will return as Master of Ceremonies for the popular event.
Dozens of donated purses, jewelry, local gift baskets and unique packages will be among the items to be sold in a silent auction. A live auction will also take place with special guests "modeling" the purses to be sold to the highest bidder.
"We are so pleased to once again join together in a celebration of elegance, where mothers and daughters, wives and sisters, and even a few fathers and sons come to bid on beautiful purses and many other items just in time for the upcoming holiday season of gifts," said Sandra Ziebold, CEO of Beacon of Hope. "But the true gift is not the items they take home, but the impacts they make in the lives of so many who have become victims of domestic violence and sexual assault in our community."
Last year's event raised over $25,000 for several victims' advocacy services offered by the Beacon of Hope Crisis Center. An average of more than 1,000 victims annually receive some form of assistance through Beacon of Hope programs.
Tickets for this event are $50 and include lunch. Tickets can be purchased through BeaconOfHopeIndy.Org and the link get me registered.
Beacon of Hope Crisis Center provides victim advocacy services to victims of domestic violence and sexual assault. Its victim advocacy team provides victims with emotional support and help finding resources. Advocates help victims with tasks such as filling out paperwork and sometimes go to court with victims.
The Crisis Center works with other collaborative partners and organizations such as social service agencies and law enforcement for criminal justice assistance. It also has a crisis call hotline team that fields incoming crisis calls.
ABOUT BEACON OF HOPE
Focused on the mission of empowering victims of domestic violence to become self-sufficient by providing safety, support and education. Beacon of Hope's vision is a world in which everyone can live free from the grip of domestic violence. Beacon of Hope provides comprehensive services to domestic violence victims that include crisis intervention, court accompaniment, advocacy and outreach, assistance filing protective orders, basic needs provision, case management, counseling services, emergency hotel assistance, foster pet care assistance, emergency veterinary assistance, employment assistance, shelter and housing referrals, teen dating abuse outreach and ongoing follow-up care. Beacon of Hope, through its Victim Advocacy Service Programs offers victims of domestic violence assistance in overcoming barriers that hold them in abusive situations. Benefiting our Indianapolis community in so many positive life changing ways. Beacon of Hope is a non-profit 501(c)(3) organization located in Indianapolis, Indiana.