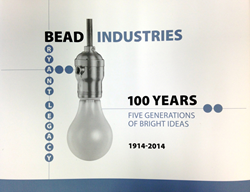 New Haven, CT (PRWEB) August 26, 2014
This year, Bead Industries reached its 100-year anniversary. In May, the company commemorated the occasion with a Centennial Celebration at its Milford facility, which was attended by more than 150 people including current employees and their families, board members, former employees, vendors, customers, colleagues and fellow manufacturers. Legislators from Hartford and local officials were also in attendance to make speeches and present proclamations.
This month, a centennial book entitled Bead Industries: Five Generations of Bright Ideas was released. This collection-based publication gives an account of life at Bead throughout the years, with over one hundred pages reflecting its rich industrial history and legacy. It recounts the beginnings of Bead and the development of its cold-forming process known as "swaging", which led to the manufacture of Bead Chain®. This is complemented by archival documents such as the company's first stock certificate issued in 1914 and historic photographs of Bead's facilities and employees during the war years.
Bead Industries is comprised of two divisions: Bead Chain and Bead Electronics, and a wholly-owned subsidiary, McGuire Mfg. Company. Founded in 1914, Bead Industries developed and manufactured Bead Chain® for electric light pulls. Using the same innovative metal-working process, it fabricated products for the electronics market in the mid-1920s. McGuire, one of Bead's loyal customers, was acquired in 1972. Learn more at http://www.beadelectronics.com.