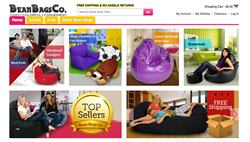 Los Angeles, California (PRWEB) July 20, 2013
Bean Bags Company is pleased to announce the launch of its newest line of oversized bean bag chairs, the Lusso Line. Now, consumers can find this sophisticated, plush bean bag chair for adults and more in one convenient place at: http://www.beanbagsco.com/giant-bean-bag-chairs.html.
The addition of the Lusso Line to Bean Bags Company's site offers consumers more sophisticated furniture replacement options. The secret to the Lusso Line of Bean Bags Company is two-fold. First, the chairs boast an exterior that is soft, plush and comforts the skin. Today's technology has allowed the manufacturer to produce faux fur, faux leather, or Sherpa materials that cradle the body for hours of relaxation while also withstanding wear and tear. The Lusso Line, like all Bean Bags Company giant bean bag chairs, is guaranteed to clean easily. In most cases, wiping with a damp cloth is sufficient to maintain the exterior for years of use.
The second secret to the Lusso Line is its ergonomically-designed filler material. Traditional bean bag chairs were filled with hard pellets that not only left the body sore but eventually compacted, creating hard spots in the seat itself. Bean Bags Company products are filled with patented UltimaX beads that are 20 percent smaller than traditional bean bag filler. UltimaX beads support the body comfortably while springing back time after time to create a seat that is ergonomically sound. Lusso Line chairs provide hours of safe and restful relaxation that is guaranteed to support the head, neck, back and shoulders while still cradling the body during leisure activities.
While support and comfort are important, most people also want great-looking furniture. The Lusso Line delivers with both soothing neutrals and bright pops of color to mix and match with any decorative scheme. Faux materials look good and maintain their appearance even with hard wear and tear by children and adults. The various styles of bean bag chairs for adults and bean bag chairs for kids that Bean Bags Company carries look great everywhere from dorm rooms to living rooms. Visiting Bean Bags Company at http://www.beanbagsco.com/adult-bean-bag-chairs.html consumers will find many quality bean bag chairs.
The Lusso Line is a quality addition to Bean Bags Company's quality lineup of tough yet beautiful bean bag chairs. Consumers seeking premium comfort and style are encouraged to visit http://www.beanbagsco.com today to find a beautiful furniture replacement today.
About Bean Bags Co.: Bean Bags Co. is a site that offers quality, affordable casual furniture and accessories in a number of styles to fit every life and budget. Ultra-plush and cozy, today's bean bags are not the hard, bead-filled bags of yesterday. New technology has allowed them to be designed with supportive, ergonomically-sound fillers and a variety of easy-clean exteriors. With free shipping and a variety of sizes and styles, Bean Bags Co. offers one of the best choices for quality casual furniture for every room of the home.
For More Information: http://www.beanbagsco.com
Distributed by Orange County SEO