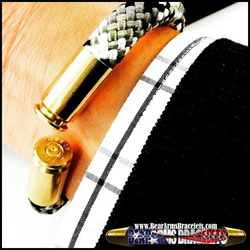 It's Not a Style, It's a Statement!
Louisville, Kentucky (PRWEB) April 02, 2015
It all started from a single man's one bedroom apartment in Louisville, Kentucky back in February 2014. Fast forward and here we are now, a little over a year later and Mr. Sean Ramsey has had over 1500 transaction on his website, making approximately 3000 of his unique and exclusive BearArms Bullet Bracelets. The kicker is very minimal advertising was used and 95% of it came from Instagram posts.
Mr. Ramsey BearArms Bracelets are individually handmade by him one at a time. The bands are made with nylon rope, known for its durability, and are flexible and conform easily to the wrist, allowing for a tight fit. The bands are then paired with recycled shell casings in various different calibers. Some of the choices are, .22 Long Rifle, .380ACP, 9mm Luger, .40 Smith and Wesson and .45ACP. With over 50 colors and patterns available, the bracelets can be easily customized to the wearer's preferences including specific ones representing the different branches of the United States Armed Forces.
These exclusive pieces of bullet casing jewelry came to fruition back in the beginning of 2014 as a way to allow people to express themselves in new, unconventional ways, and grew into something more. With the Second Amendment in mind, BearArms Bracelets founder Sean Ramsey sought to make a statement by developing these unique trinkets.
"I honestly didn't think my bracelets would be this sought after. I just made a couple and posted a few pictures of them up on Instagram and they've taken off since then. I just wanted to make a symbol for people who believe passionately in Second Amendment rights, and I'm just happy to have been able to compact these views and freedoms that are important to millions of others, as well as myself into a beautiful piece of jewelry anyone would be proud to place upon their wrist." says Ramsey.
The bullet bracelets are also a beautiful sentiment to show support and respect to a family member or friend who is an active servicemen/woman, in the reserves, retired and/or no longer with us. "In my opinion I just don't think these heroes get the recognition they deserve and it makes my day each time I get an email from a soldier or their family member thanking me for what I am doing." Ramsey stated.
Mr. Ramsey also donates a portion of the proceeds to the National Rifle Association (NRA) and the Wounded Warrior Project.
Ramsey's ultimate goal is to make them available in care packages to be sent to military troops overseas and their families.
Ordering information can be found at http://BearArmsBracelets.com