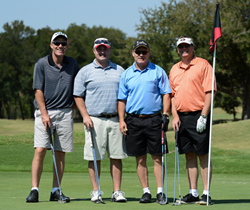 Last year, we helped raise $56,380 for the assistance of servicemen and women injured in the protection of our country.
Dallas, TX (PRWEB) September 17, 2013
BearCom, a nationwide provider of wireless communications equipment and solutions, today announced several enhancements to the AUSA Wounded Warrior Golf Classic to be held October 14 with BearCom and Motorola Solutions as lead sponsors. The tournament benefits two charities assisting wounded warriors and their families in North Texas.
The 2013 AUSA Wounded Warrior Golf Classic will be held at Firewheel Golf Park, one of the Dallas area's premier public golf complexes. The event will again feature contests for the longest drive and the closest to the pin, as well as a hole-in-one challenge for the more than 200 participants.
Included in the foursomes at this year's tournament will be more than a dozen former servicemen and women who have learned to play golf through the Salute Military Golf Association, which works to provide rehabilitative golf experiences to post-9/11 wounded war veterans.
The event will again conclude with a dinner and a raffle for a range of items, including golf equipment, event tickets, sports memorabilia, and a video game system. Notable raffle items this year are to include:

A golf weekend for two at North Carolina's historic Pinehurst Resort: Three times the site of the U.S. Open Championship and boasting eight world-class courses, Pinehurst has been recognized as the best golf resort in America. This trip is valued at $2,000.
A model 1903 Springfield rifle, the standard U.S. military weapon for World War I and the start of World War II: Valued at $1,000 and still operational, this particular rifle was the U.S. Army's first attempt at a standardized sniper weapon.
Just as she did last year, noted singer/songwriter Helene Cronin will perform "Lucky Me," a touching song about the debt we all owe our servicemen and women that she wrote after a meeting a soldier in the Nashville airport.
"We are excited to be a part of a great event that keeps getting better," said BearCom President & CEO Jerry Denham. "Last year, we helped raise $56,380 for the assistance of servicemen and women injured in the protection of our country. This year, we hope to do even better. We also want to remind players that it's not too late to sign up, have some fun, and support a great cause."
The 2013 AUSA Wounded Warrior Golf Classic is online at http://www.WoundedWarriorGolfClassic.com, which offers details on the event, the contests to be held, and information about the tournament's sponsors. Website visitors can support wounded warriors by becoming a tournament sponsor, registering to play, or making a donation.
The event is organized each year by the North Texas Chapter of the Association of the United States Army (AUSA), which supports Heroes on the Water and Operation Once in a Lifetime. Heroes on the Water helps injured military personnel relax, rehabilitate, and reintegrate with society through fishing and the outdoors. Operation Once in a Lifetime's mission is to make the dreams of U.S. soldiers come true by providing free financial and moral support to service members, their families, and veterans.
About BearCom
BearCom provides a broad line of high-performance wireless communications products, services, and complete mobility solutions. Founded in 1981, BearCom is America's only nationwide dealer and integrator of wireless communications equipment, serves customers from 26 branch offices located throughout the U.S., has several affiliated offices around the world, and employs approximately 400 people. BearCom is headquartered in the Dallas, Texas area. For more information, visit http://www.BearCom.com.