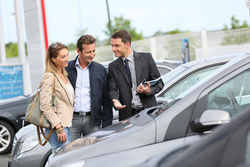 The instant, one-to-one and one-to-many communications enabled by two-way radios maximize efficiency and customer response times for automotive service and sales.
Dallas (PRWEB) October 03, 2014
BearCom, a nationwide provider of wireless communications equipment and solutions, today detailed the role that two-way radios play in the automotive industry.
"The automotive industry is competitive and customer service oriented," said Hugh Johnston, Product & Purchasing Manager at BearCom. "The instant, one-to-one and one-to-many communications enabled by two-way radios maximize efficiency and customer response times for automotive service and sales."
Johnston gave examples of specific types of automotive businesses that would benefit from instant one-to-many communications.
Auto Dealerships – In the auto sales business, if a shopper has a negative experience or isn't promptly helped by a salesperson, the entire sale can be lost. Two-way radios allow the person monitoring incoming traffic to immediately call a sales person to the lot or showroom, have a test drive vehicle brought to the front, or request a manager for pricing discussions.
Service Centers/Departments – In a service center, radios can speed up the repair process and enable accurate and timely communication with customers. Service technicians can notify the front office when a vehicle is ready for pick-up, if additional mechanical issues are discovered, or if a part needs to be sourced. The front office can radio for loaner vehicles and notify service technicians of incoming jobs.
Automotive Retail – Auto parts suppliers enjoy the same advantages from two-way radio communications as any retail store. Instant communication enables prompt customer service, efficient internal handling of questions regarding inventory or pricing, the ability to more effectively monitor and prevent theft, and on-the-spot knowledge-sharing among staff.
Many automotive businesses have traditionally used paging systems to communicate across the facility. Johnston points out that two-way radios are a superior solution for multiple reasons. "Radios are more personal and instantaneous," said Johnston. "They also replace intrusive overhead announcements for a better ambience and customer experience."
Johnston recommended that auto dealerships, service centers and retailers use compact, high-value radios from Motorola Solutions, such as the Motorola CLS1110 and Motorola CLS1410, as well as the CLP Series, which includes the Motorola CLP1010, Motorola CLP1040, and Motorola CLP1060.
Motorola CLS Series two-way radios are lightweight, easy-to-operate with one hand, and compatible with a variety of accessories. They also are highly affordable, so businesses can purchase however many radios they need at lower costs. Simplified charging and cloning make CLS radios easy to manage. They are simple to use and require little to no training. Without use of a repeater, CLS series radios have a larger footprint than CLP series radios, making them a better choice for facilities closer to the 200,000 square-foot range, such as large auto dealerships.
Motorola CLP Series radios are smaller and lighter than CLS Series radios. Their design integrates an earpiece, which makes for even more discreet communications. The CLP1010, CLP1040, and CLP1060 are simple to use, as they integrate only the essential elements. For areas of coverage exceeding 120,000 square feet, CLP radios can be integrated with repeaters to increase range.
For more information about Motorola CLS and CLP Series two-way radios, please visit http://www.BearCom.com or call 800.527.1670.
About BearCom
BearCom provides a broad line of high-performance wireless communications products, services, and complete mobility solutions. Founded in 1981, BearCom is America's only nationwide dealer and integrator of wireless communications equipment, serves customers from 28 branch offices located throughout the U.S., has several affiliated offices around the world, and employs approximately 400 people. BearCom is headquartered in the Dallas, Texas area. For more information, visit http://www.BearCom.com and http://www.TodaysWirelessWorld.com.
MOTOROLA, MOTOROLA SOLUTIONS and the Stylized M Logo are trademarks or registered trademarks of Motorola Trademark Holdings, LLC and are used under license. All other trademarks are the property of their respective owners. ©2014 Motorola Solutions, Inc. All rights reserved.