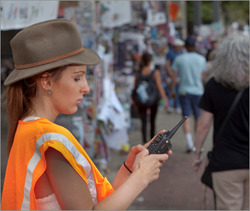 The push-to-talk convenience of two-way radios and their one-to-many or one-to-one communications capabilities make it possible for a point person to relay timely information.
Dallas, TX (PRWEB) May 30, 2014
BearCom, a nationwide provider of wireless communications equipment and solutions, today advised leaders in the meetings and events industry on how they can capitalize on two-way radios and other wireless technologies to make events run smoothly.
"For many years, two-way radios have been the clear choice for organizers of events," said Hugh Johnston, Product & Purchasing Manager at BearCom. "The push-to-talk convenience of two-way radios and their one-to-many or one-to-one communications capabilities make it possible for a point person to relay timely information. That is especially important in an industry where everything depends on keeping to a schedule."
Johnston recommends several two-way radios for the events industry:
The Motorola XPR3500 combines the best of two-way radio functionality with digital technology. The Motorola XPR3500 is analog interoperable, with exceptional audio quality, durability, and multiple features to enhance efficiency.
BearCom also offers the XPR7550, which is a fully functional, feature-rich digital radio from Motorola. The Motorola XPR7550 is fully compatible and interoperable with Motorola's ConnectPlus network platforms.
One of the most popular two-way radios ever released, the Motorola CP200 is lightweight, durable, and easy to use. It is now available for purchase in a digital version, the Motorola CP200d. The CP200d retains the radio's simplicity and durability, and the form factor is virtually the same. The new model is backward compatible, so it uses the same chargers, batteries, and speaker-microphones as the CP200. It is also being made available in a digital-capable version that can be converted later from analog to digital operation.
An economical, easy-to-use radio, the Motorola/BearCom BC130 has been recognized in the Contractors' Top 50 New Products awards made annually by Equipment Today magazine and ForConstructionPros.com.
The right radio accessories can augment the user experience. Speaker microphones allow the user to transmit without actually touching their radios, while surveillance kits allow them to talk and listen discreetly by placing wires under shirts and jackets. These devices allow for necessary communication without attendees even noticing. They can be especially useful when organizers or security staff want to communicate privately and quietly.
In addition to radios, push-to-talk phones can deliver an extremely wide coverage area, plus instant access to the Internet.
"For annual events, it may not make sense to purchase a fleet of two-way radios, especially when they might go unused for the rest of the year," Johnston said. "There is a better alternative. BearCom offers affordable, flexible rental and leasing options for radios, repeaters and radio accessories."
About BearCom
BearCom provides a broad line of high-performance wireless communications products, services, and complete mobility solutions. Founded in 1981, BearCom is America's only nationwide dealer and integrator of wireless communications equipment, serves customers from 26 branch offices located throughout the U.S., has several affiliated offices around the world, and employs approximately 400 people. BearCom is headquartered in the Dallas, Texas area. For more information, visit http://www.BearCom.com/industries/events-and-venues and our online magazine, Todays Wireless World. For assistance with Sales, contact BearCom at 800.527.1670; for assistance with Rentals, 800.541.9333.