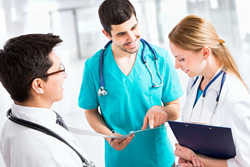 Two-way radios are an indispensible tool for enhanced efficiency and accuracy in critical communications between staff.
Dallas, TX (PRWEB) September 19, 2014
BearCom, a nationwide provider of wireless communications equipment and solutions, today detailed the key role played by instant, one-to-one and one-to-many communications provided by two-way radios in the healthcare industry.
"In healthcare, speed of information flow improves operations and patient care – and in emergency situations, can save precious seconds that can be the difference between life and death," said Hugh Johnston, Product & Purchasing Manager at BearCom. "Two-way radios are an indispensible tool for enhanced efficiency and accuracy in critical communications between staff."
Johnston gave examples of specific types of healthcare facilities that benefit from instant one-to-many communications.
To cut wait times, hospitals, emergency rooms, medical clinics, doctor's offices, and other care facilities such as optometry, rehab, dental, and more can use two-way radios to manage the flow of patients between waiting areas and exam rooms, as well as other departments like radiology or the lab.
Two-way radios also facilitate timely communications between staff – for example, a dental technician can instantly notify the dentist when a patient is ready to be examined or consulted, or an x-ray tech can let a doctor know when a patient's x-rays are ready to be reviewed.
"Healthcare is struggling to remain profitable today under new regulations and costs," said Johnston. "Increasing efficiency and maximizing the number of patients that can be seen is good for the patient experience and the bottom line."
Two-way radios can also play an important role in safety when instant communication is of vital importance. Long-term care centers may use radio communications to get immediate attention for residents having medical issues. Or, a veterinary clinic can communicate immediately when an animal is going into labor, or an accident happens with a large animal that requires multiple staff members to administer emergency response.
Johnston recommended that healthcare facilities under 200,000 square feet consider compact, high-value radios from Motorola Solutions, such as the Motorola CLS1110 and Motorola CLS1410, as well as the CLP Series, which includes the Motorola CLP1010, Motorola CLP1040, and Motorola CLP1060.
Motorola CLS Series two-way radios are lightweight, easy-to-operate with one hand, and compatible with a variety of accessories. They also are highly affordable, so healthcare organizations can purchase however many radios they need at lower costs. Simplified charging and cloning make CLS radios easy to manage, and they are so simple to use that little or no training is required. Without use of a repeater, CLS series radios have a larger footprint than CLP series radios, making them a better choice for facilities closer to the 200,000 square-foot range.
Motorola CLP Series radios are smaller and lighter than CLS Series radios. Their design integrates an earpiece, which makes for even more discreet communications. The CLP1010, CLP1040, and CLP1060 are simple to use, as they integrate only the essential elements. For areas of coverage exceeding 120,000 square feet, CLP radios can be integrated with repeaters to increase range.
For more information about Motorola CLS and CLP Series two-way radios for healthcare operations, please visit http://www.BearCom.com or call 800.527.1670.
About BearCom
BearCom provides a broad line of high-performance wireless communications products, services, and complete mobility solutions. Founded in 1981, BearCom is America's only nationwide dealer and integrator of wireless communications equipment, serves customers from 28 branch offices located throughout the U.S., has several affiliated offices around the world, and employs approximately 400 people. BearCom is headquartered in the Dallas, Texas area. For more information, visit http://www.BearCom.com and http://www.TodaysWirelessWorld.com.
MOTOROLA, MOTOROLA SOLUTIONS and the Stylized M Logo are trademarks or registered trademarks of Motorola Trademark Holdings, LLC and are used under license. All other trademarks are the property of their respective owners. ©2014 Motorola Solutions, Inc. All rights reserved.