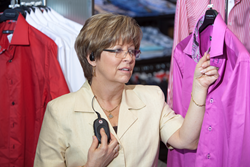 The capabilities that radios provide to help staff and temporary workers are invaluable during the holiday shopping season.
Dallas,TX (PRWEB) October 27, 2014
BearCom, a nationwide provider of wireless communications equipment and solutions, offers three key recommendations on how retailers can best use two-way radios for the holiday shopping season.
"In November and December, retailers need every tool they can get to better serve shoppers," said Hugh Johnston, Product & Purchasing Manager at BearCom. "The capabilities that radios provide to help staff and temporary workers instantly check stock, answer customer questions, alert managers to hazards and help families locate lost children are invaluable during the holiday shopping season."
Johnston noted three main ways in which radios are indispensable during the holiday season.

Expedited training of new, temp and part-time employees – Johnston said, "Retailers will add up to 780,000 seasonal workers to handle the crush of holiday consumers. Many will have little experience, limited product knowledge, and no familiarity with store operations. Two-way radios keep the rookies in constant communication with managers and experienced staff members, so they aren't overwhelmed."
Handling customer requests and questions efficiently – "If just one person in the checkout line has a question that requires an employee to hunt down a manager, the wait time will become intolerable," according to Johnston. "A radio is absolutely mandatory to keep everyone connected and speed service opportunities."
Preventing loss in the rush – "More than $13 billion worth of goods are stolen from retailers each year," said Johnston. "That's more than $35 million per day. One of the most effective deterrents is an active employee presence, coordinated by efficient communications using two-way radios." Loss can also be averted by alerting staff when careless shoppers create breakage or product damage.
Johnston said two series of radios from Motorola Solutions are ideal for retailers — the CLS Series, which includes the Motorola CLS1110 and Motorola CLS1410, and the CLP Series, including the Motorola CLP1010, Motorola CLP1040, and Motorola CLP1060.
Motorola CLS Series radios are economical, compact, and compatible with a variety of accessories. Simplified charging and cloning make CLS radios easy to manage. They are so simple to use that little or no training is required, which is important during the time crunch of the holiday shopping season when inexperienced workers play a key role in serving shoppers.
Motorola CLP Series radios are even lighter and smaller. Their design integrates an earpiece, which makes for discreet communications. The CLP1010, CLP1040, and CLP1060 are easy to use, as they integrate only the essential accessory elements. Additionally, the CLP1060 is Bluetooth enabled. It is sold with the necessary Bluetooth earpiece.
Johnston said, "Retail organizations that effectively use a two-way radio system will find that everything runs more smoothly. As a result, CLS or CLP radios will pay for themselves in just a few weeks."
For more information about Motorola CLS and CLP Series two-way radios, please visit http://www.BearCom.com or call 800.527.1670.
About BearCom
BearCom provides a broad line of high-performance wireless communications products, services, and complete mobility solutions. Founded in 1981, BearCom is America's only nationwide dealer and integrator of wireless communications equipment, serves customers from 28 branch offices located throughout the U.S., has several affiliated offices around the world, and employs approximately 400 people. BearCom is headquartered in the Dallas, Texas area. For more information, visit http://www.BearCom.com and http://www.TodaysWirelessWorld.com.
MOTOROLA, MOTOROLA SOLUTIONS and the Stylized M Logo are trademarks or registered trademarks of Motorola Trademark Holdings, LLC and are used under license. All other trademarks are the property of their respective owners. ©2014 Motorola Solutions, Inc. All rights reserved.