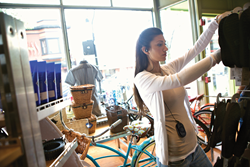 One of the most effective deterrents is an active employee presence, coordinated by the efficient use of two-way radios.
Dallas, TX (PRWEB) May 29, 2014
BearCom, a nationwide provider of wireless communications equipment and solutions, today offered insight into how two-way radios can make a significant impact on loss prevention.
"More than $13 billion worth of goods are stolen from retailers each year," said Hugh Johnston, Product & Purchasing Manager at BearCom. "That's more than $35 million per day. One of the most effective deterrents is an active employee presence, coordinated by the efficient use of two-way radios."
Johnston noted some basic loss-prevention scenarios in which a radio is useful:
Identifying suspicious activity. When management and staff use two-way radios to communicate suspicious activity to fellow employees, they can keep a collective eye on individuals who may be about to shoplift merchandise. They can also monitor careless or destructive customers who may be about to damage merchandise or fixtures.
Discreet communications. When an associate needs to notify a manager or security personnel, he or she should do it subtly, so the suspected shoplifter doesn't make an immediate run for the front door with their stolen goods in hand. Two-way radios with surveillance kit accessories enable quiet and discreet communication.
Timely contact with security officers. With liability issues to consider, many stores have policies in place on whether or not to pursue shoplifters. Using radios for early contact with available trained security officers can preclude high-risk flight-and-chase scenarios.
Instant documentation. If perpetrators do wander off or get away, employees can radio their managers with distinguishing features: hair color, height, weight, etc. Many shoplifters are repeat offenders. If they return, the store will already have a profile on record.
Lost-child alerts. Although loss prevention usually focuses on merchandise, there is no greater concern for retailers than a missing child. Instead of disconcerting PA broadcasts, one-to-one or one-to-group radio communication can mobilize staff in an instant to cover exits and initiate a search.
Johnston said two series of radios from Motorola Solutions are especially well suited for retailers. He listed the Motorola CLS1110 and Motorola CLS1410 along with the Motorola CLP1010, Motorola CLP1040, and Motorola CLP1060.
Motorola CLS Series portable radios are economical, compact, lightweight, and compatible with a variety of accessories. Simplified charging and cloning make CLS radios easy to manage, and they are so simple to use that little or no training is required.
Motorola CLP Series radios are even lighter and smaller. Their design integrates an earpiece, which makes for even more discreet communications. The CLP1010, CLP1040, and CLP1060 are very easy to use, as they integrate only the essential accessory elements. The CLP1060 is Bluetooth enabled and is sold with a Bluetooth earpiece. The Bluetooth accessory is ideal for the plain clothed security agents that want to blend in like a customer for more covert operations.
Johnston said, "Retail organizations considering investing in two-way radios often ask about the return on their investment. Since radios can prevent theft and act as a deterrent to future criminal activity, the low price-point CLS and CLP radios often pay for themselves in just a few weeks."
The National Retail Federation Loss Prevention Conference & Expo is June 10-13, 2014 in Fort Lauderdale, Florida. Look for BearCom at Booth 631.
For more information about Motorola CLS and CLP Series two-way radios for retailers, please visit http://www.BearCom.com or call 800.527.1670.
About BearCom
BearCom provides a broad line of high-performance wireless communications products, services, and complete mobility solutions. Founded in 1981, BearCom is America's only nationwide dealer and integrator of wireless communications equipment, serves customers from 26 branch offices located throughout the U.S., has several affiliated offices around the world, and employs approximately 400 people. BearCom is headquartered in the Dallas, Texas area. For more information, visit http://www.BearCom.com and http://www.TodaysWirelessWorld.com.
MOTOROLA, MOTOROLA SOLUTIONS and the Stylized M Logo are trademarks or registered trademarks of Motorola Trademark Holdings, LLC and are used under license. All other trademarks are the property of their respective owners. ©2014 Motorola Solutions, Inc. All rights reserved.