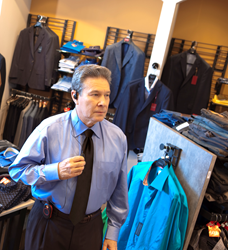 For retailers, two-way radios are essential communication tools for instantly alerting staff to a potential lost child situation.
Dallas (PRWEB) November 07, 2014
BearCom, a nationwide provider of wireless communications equipment and solutions, is publicizing a four-step procedure that all retailers should put in place to respond effectively to a lost child emergency.
According to the National Center for Missing & Exploited Children (NCMEC), approximately 800,000 young people go missing annually. In all of these missing child scenarios, statistics show that the first three hours are the most important for successful resolutions.
"During the holiday season, children sometimes get separated from parents within a busy, crowded store," said Hugh Johnston, Product & Purchasing Manager at BearCom. "For retailers, two-way radios are essential communication tools for instantly alerting staff to a potential lost child situation, setting up a search perimeter and coordinating a team to help look for the child."
First and foremost, retailers are advised to sign up for the Code Adam program. Code Adam is a search tool for lost and potentially abducted children. It is one of the country's largest child safety programs and is currently used in tens of thousands of establishments. The program is offered free of charge and is easy to use. When a customer reports a missing child, a special Code Adam alert is issued on the premises with your two-way radio system. Two-way radios can communicate instantly and discreetly with whatever staff groups are set-up.
A four-step approach, based upon the procedures developed by Code Adam, is suggested for retailers during a potential lost child emergency:
Step 1: Identify and approach a distressed customer. When a parent loses a child, he or she is often in a panic and may not be thinking clearly. If you see a customer that is clearly distraught, approach the parent and ask to help. Ask questions such as "When and where did you last see your child?"
Step 2: Obtain a detailed description of the child. The description should include physical features and clothing worn. Then use your radio to let management and other store employees know there's a "Code Adam" in progress.
Step 3: Stop working and look for the child. Designated employees should quickly monitor every possible entrance to ensure that the child doesn't leave the premises. Speed is critical.
Step 4: Call law enforcement if child is not found quickly. Mall security and law enforcement should take over the search. They will be able to set up a larger search perimeter.
Johnston said two series of radios from Motorola Solutions are ideal for retailers — the CLS Series, which includes the Motorola CLS1110 and Motorola CLS1410, and the CLP Series, including the Motorola CLP1010, Motorola CLP1040, and Motorola CLP1060.
Motorola CLS Series radios are trustworthy, compact, and compatible with a variety of accessories. Simplified charging and cloning make CLS radios easy to manage. They are so simple to use that little or no training is required, which is essential when inexperienced workers need to step up in a crisis situation.
Motorola CLP Series radios are even lighter and smaller. Their design integrates an earpiece, which makes for discreet communications. The CLP1010, CLP1040, and CLP1060 are easy to use, as they integrate only the essential accessory elements. Additionally, the CLP1060 is Bluetooth enabled. It is sold with the necessary Bluetooth earpiece.
Johnston said, "In an emergency, you need to communicate with as many people as possible as efficiently as possible. The instant, one-to-many communications enabled by two way radios are an invaluable tool in a lost child scenario when seconds count."
For more information about Code Adam, visit http://www.missingkids.com/CodeAdam.
For more information about Motorola CLS and CLP Series two-way radios, please visit http://www.BearCom.com or call 800.527.1670.
About BearCom
BearCom provides a broad line of high-performance wireless communications products, services, and complete mobility solutions. Founded in 1981, BearCom is America's only nationwide dealer and integrator of wireless communications equipment, serves customers from 28 branch offices located throughout the U.S., has several affiliated offices around the world, and employs approximately 400 people. BearCom is headquartered in the Dallas, Texas area. For more information, visit http://www.BearCom.com and http://www.TodaysWirelessWorld.com.
MOTOROLA, MOTOROLA SOLUTIONS and the Stylized M Logo are trademarks or registered trademarks of Motorola Trademark Holdings, LLC and are used under license. All other trademarks are the property of their respective owners. ©2014 Motorola Solutions, Inc. All rights reserved.