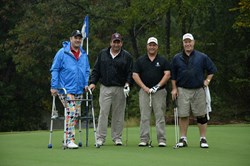 This year's tournament demonstrated yet again how willing good people are to show support for our wounded servicemen and women.
Dallas, TX (PRWEB) November 14, 2013
BearCom, a nationwide provider of wireless communications equipment and solutions, today announced that two local charities helping injured servicemen and women will share $43,000 from the 2013 AUSA Wounded Warrior Golf Classic for which BearCom and Motorola Solutions served as lead sponsors.
The tournament held October 14 at Firewheel Golf Park in Garland, Texas, raised almost as much for the two charities as last year's record-setting event. Nearly 180 of the 200 registered golfers braved a persistent rain to participate. Video highlights are available on BearCom's YouTube channel.
"The rain may have diminished our golf games, but not our gratitude for the men and women who have sacrificed so much to protect our nation's freedom," said BearCom President & CEO Jerry Denham. "BearCom and Motorola Solutions were pleased to again serve as the lead sponsors of this fine event."
The annual golf tournament is organized by the North Texas Chapter of the Association of the United States Army (AUSA), which focuses on programs raising funds and awareness in support of wounded warriors, PTSD and TBI treatment, assisting soldiers and veterans in finding civilian employment, and teaching leadership skills to individuals and organizations.
Chapter President Kermit Gable said, "This year's tournament demonstrated yet again how willing good people are to show support for our wounded servicemen and women. We would like to thank our sponsors, players, and volunteers on behalf of the two great charities that benefit from the AUSA Wounded Warrior Golf Classic." The North Texas Chapter supports Heroes on the Water and Operation Once in a Lifetime.
Heroes on the Water helps injured military personnel relax, rehabilitate, and reintegrate with society through fishing and the outdoors. Heroes on the Water President Jim Dolan said the tournament's donation of $21,500 will help purchase more kayaks, paddles, life vests, and fishing equipment, as well as fund more weekend fishing trips for veterans. These longer trips, he said, help participants form lasting bonds that promote healing.
"The day trips are great, but the weekend trips are absolutely amazing," Dolan said. "Our veterans have a unique opportunity to unwind and talk among themselves about their challenges and how they're meeting them. And the need is massive. The number of guys and gals who come home and need help is growing by the day."
Operation Once in a Lifetime provides free financial and moral support to U.S. service members, their families, and veterans. The charity helps give them memorable experiences, such as professional sporting events, attractions, and even vacations. It also operates resale stores in Plano, Texas, and in the Fort Hood area, where veterans can shop for free for needed items.
The organization is led by Patrick Sowers, who used last year's AUSA donation to double the size of the Plano store and open the Fort Hood location that now helps about 5,000 active-duty service members, veterans, and their families each month. This year, with the event's $21,500 donation, Sowers said he hopes to open a third store location, likely near the Dallas Veterans Affairs Medical Center in southern Dallas. He said he would also like to set up an emergency fund for the charity in the face of a steadily growing need for assistance. Sowers added, "Just today, we got 20 requests from veterans for help."
About BearCom
BearCom provides a broad line of high-performance wireless communications products, services, and complete mobility solutions. Founded in 1981, BearCom is America's only nationwide dealer and integrator of wireless communications equipment, serves customers from 26 branch offices located throughout the U.S., has several affiliated offices around the world, and employs approximately 400 people. BearCom is headquartered in the Dallas, Texas area. For more information, visit http://www.BearCom.com.