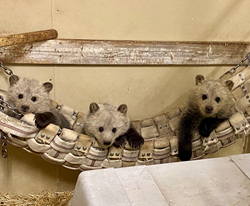 Bearizona's large yearly attendance ensures that millions of people will be able to be educated about grizzly bears and leave with a newfound respect for these majestic animals and the forests they call home.
WILLIAMS, Ariz. (PRWEB) May 27, 2020
Bearizona, a popular wildlife park devoted to providing homes for wild animals in need, announced today it will rescue three grizzly bear cub siblings in June who were orphaned after their mom was euthanized by the Montana Fish Wildlife & Parks Service (FWP) following a surprise encounter with a hiker. The park plans to build a 40,000-square-foot enclosure for the cubs by March 2021 that will be one of the largest and most impressive grizzly bear enclosures in the United States upon completion. The public will be able view the four-month-old cubs beginning Friday, June 12 in the walk-thru section of the park, where they will live in the established enclosure Bearizona reserves for bear cub rescues.
The three grizzly bear siblings—one female and two males, who each weigh about 40 pounds now—became orphans after their mom was shot and injured by a hiker near Dupuyer, and ultimately had to be euthanized on April 9, 2020. At the time, it was not clear how many cubs she had. Three days later, a ranching family spotted her three cubs huddled together in a nearby field and reported them to the authorities.
While waiting for FWP to arrive, the family grew concerned for the cubs' safety due to an impending snowstorm and a male grizzly that lives in the area. Since they are adept at roping, the family was able to gently rope the cubs and keep them safe until FWP arrived and transported them to a wildlife center.
The cubs remained at the Wildlife Center at Montana WILD for nearly two months while the FWP staff searched for a new home that would meet its rigorous, scientifically based standards that include:

Exceptional animal care and welfare, including a curate trained staff
Veterinary care
Safety for the public, staff and animals they care for
Proper enclosures that can keep wildlife safely contained, allow for adequate space, include habitat features, and enrichment items for mental stimulation
Educating the public on conservation
Financial stability
"Bearizona Wildlife Park is a Zoological Association of America accredited facility and has in place many of the high standards that FWP requires. Both the U.S. Fish and Wildlife Service and Montana Fish Wildlife & Parks Service did a lot of research on this facility, which also got very high recommendations from the AZ Fish & Game, AZ USFWS, AZ USDA, AZ state veterinarians, and many others," said Laurie Wolf, Interim Education Bureau Chief for FWP. "Bearizona has also committed to investing an extraordinary amount of money into building an incredible new enclosure and exhibit for these three cubs. Also, most of the bears they currently have on display were orphaned cubs that were often placed there from AZ Fish & Game. We also chose them because they get over 400,000 visitors annually and focus on conservation education."
Bearizona Owner Sean Casey will personally transport the cubs from Helena, Montana to Williams, Arizona on June 3 using a jaguar kennel in an air conditioned cargo van with the assistance of his 25-year-old nephew, Kevin Jr.
"While it is unfortunate that this sort of thing happens in the wild from time to time, we are honored to be able to take in these three grizzly cubs and provide them with the best home possible," Casey said. "We are beginning construction in June on a new 40,000-square-foot exhibit with the goal of making it the best in the United States for these incredible animals. Since we have a nimble team of skilled plumbers, electricians, carpenters and concrete artists, we anticipate spending about $1 million on an exhibit that would ordinarily cost most municipal zoos more than $4 million. Our main goal is to create a truly spectacular natural habitat where 'bears can be bears' in order to help us educate our visitors about the plight of the grizzly and the environments in which they thrive."
The new grizzly bear habitat at Bearizona will feature a 200-foot-long by 24-foot-high cliff, two waterfalls, underwater viewing sections and a rock ridge from where people can look down, into the enclosure, or up, into the grizzly ponds. Visitors will be able to safely view the bears due to the construction of moats, railings and some glass walls.
American zookeeper Jack Hanna is especially pleased about this development, as he is a big advocate of Bearizona and the park's ability to rescue and care for grizzly bear cubs.
"I have attempted to help Bearizona Wildlife Park get grizzly bears in the past because I feel it is one of the top places in the United States for North American animals," Hanna said. "They give their animals plenty of space and surround them with professional and caring staff. Bearizona's large yearly attendance ensures that millions of people will be able to be educated about grizzly bears and leave with a newfound respect for these majestic animals and the forests they call home."
Bearizona is a 158-acre facility accredited by the Zoological Association of America and is currently home to 39 black bears and many other species of North American wildlife. The drive- and walk-through park's mission is to rescue wild animals in need of new homes and promote conservation by inviting visitors to view wildlife in spacious, natural environments. Since it was founded in 2010, Bearizona has fast-become a must-see attraction when visiting the Grand Canyon's South Rim or driving through Northern Arizona. It was voted among the top three wildlife parks by the annual USA Today Readers' Choice Awards twice in the past three years.
Animal lovers interested in supporting the new grizzly exhibit can purchase many items at shopbearizona.com/grizzly.
For more information, visit http://www.bearizona.com.
###
About Bearizona
Bearizona is a drive- and walk-through wildlife park south of the Grand Canyon in Williams, AZ, near the intersection of Historic Route 66, Interstate 40 and Highway 64. The park's mission is to rescue wild animals in need of new homes and promote conservation by fostering memorable and educational encounters with North American wildlife in natural environments. Bearizona invites guests to take a scenic, three-mile drive through packs and herds of wild animals followed by a leisurely stroll through Fort Bearizona, where additional animals can be seen beneath the towering ponderosa pines of Coconino National Forest.
Media Contact:
April White
Bearizona
april@bearizona.com
323-216-8589