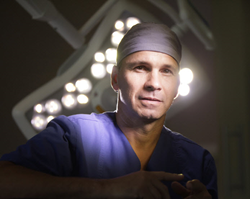 "Mesoanaloglift© (MSA) Technique uniquely combines various aspects of plasma lifting, 3D lipo-structuring, and micro-needling"
(PRWEB) July 06, 2016
The new products will take advantage of Dr. Reus' pioneering Mesoanaloglift© (MSA) Technique, which uniquely combines various aspects of plasma lifting, 3D lipo-structuring, and micro-needling to tighten underlying tissues and muscles, and rewrap facial and neck skin – which ultimately results in permanent, dynamic and scar-free cell structure firming, skin improvement and revitalization.
In stark contrast to widely-used cosmetic needling that has a penetration depth of just 0.2-0.5 mm, the MSA Technique© has a penetration depth of 2-3mm, and is performed on an outpatient basis. Long-term follow-up with patients have found that improvements last for about 10 years -- compared to a few months with common injections.
"Most facial rejuvenation techniques used by today's plastic surgeons focus on removing excess facial skin to make the face appear younger," commented Dr. Reus, whose practice is based in Germany. "However, aging skin does not just lose its elasticity, but also fat and muscle tone. The MSA Technique© stimulates the regeneration of collagen, which improves skin texture and effectively addresses the underlying cause of deep wrinkles, ultimately delivering dramatic results that last for several years."
"The Mesoanaloglift© (MSA) is a proven method, and we see this as the vision that moves our company forward," commented Liz Bardelas, PT, MBA, the CEO and founder of Bea Professional Brands, the parent company of Bea Skincare and Cosmetics, whose products have been featured in major fashion magazines including Vogue, Glamour, Harper's Bazaar, Cosmopolitan, Elle, and GQ. "With Dr. Reus' expertise, we can focus on developing products that will provide clinical-strength anti-aging results, offer anti-oxidant properties, and improve the skin's immunity. When we create products, we are making decisions that impact the lives of others. Dr. Reus has been giving us outstanding support throughout the process, transforming a concept into what truly reflects our company's mission and values: creating innovative and cruelty-free skincare and cosmetic products, which fuse science and the traditional healing benefits of natural ingredients."
In addition to the new range of products, Dr. Reus and Bea Professional Brands also announced that they are collaborating on a series of medical education courses, which will introduce and teach the MSA Technique© to plastic surgeons in the US, Europe, Asia and the Middle East. Further updates will be released in the coming months.
Added Ms. Bardelas: "As the aging population grows, it is obvious to me why Mesoanaloglift Technique© could easily become the most desired facial plastic surgical procedure. Dr. Reus has been using the method for over a decade, and in my view it is without question the most effective and at the same time the gentlest method of facial rejuvenation. It truly is the major beauty and anti-aging breakthrough that both women and men have been waiting for."
For more information on Dr. Reus' practice and solutions, visit http://www.plastischechirurgiereus.de/, or email dr.reus(at)plastischechirurgiereus(dot)de.