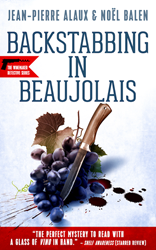 Captivating… pure enjoyment.
New York, New York (PRWEB) November 17, 2015
This year, November 19 is Beaujolais Nouveau Day around the world—the day the year's new wine goes on sale. For mystery and thriller publisher Le French Book, this is the perfect day to release Backstabbing in Beaujolais, a wine-country mystery set in France—in Beaujolais, of course. It is part of the Winemaker Detective series. This cozy mystery series by Jean-Pierre Alaux and Noël Balen is "perfect to read with a glass of vino in hand" (Shelf Awareness, starred review).
In Backstabbing in Beaujolais, a business magnate calls on wine expert Benjamin Cooker to kick-start his new wine business in Beaujolais, sparking bitter rivalries. Can the Winemaker Detective and his assistant keep calculating real estate agents, taciturn winegrowers, dubious wine merchants and suspicious deaths from delaying delivery of the world-famous Beaujolais Nouveau? Witty banter, food, wine, literature, and art are all served with a clever mystery and a delicious education in food, wine and French gourmet attitude.
Praise for the book and the series
"Will appeal to wine buffs and those who dream of visiting a French countryside that is filled with chateaux and rascally nobility, and where all the women—and most men—are superb chefs." —Publishers Weekly
"Riveting from the first page as the mystery simmers until it is smartly deduced." —The Discerning Reader
"This is great fun with it's likeable, elegant characters and its descriptions of their luxurious way of life and the beautiful French countryside." —Book Addiction
"It's a terrific series." —New York Times bestselling author William Martin
The book
BACKSTABBING IN BEAUJOLAIS by Jean-Pierre Alaux and Noël Balen, translated by Anne Trager - Release date: November 19 — Isbn: 9781939474537 (trade paperback) / 9781939474544 (ebook).
For the holidays, the publisher is also releasing THE WINEMAKER DETECTIVE: AN OMNIBUS, a gift idea for wine lovers and mystery lovers alike.
About Le French Book
Le French Book (http://www.lefrenchbook.com) is a New York-based publisher that brings France's best mysteries and thrillers to new readers across the English-speaking world. Its motto is: "If we love it, we'll translate it."
©2015 Le French Book, Inc. All rights reserved. Information is subject to change without notice.