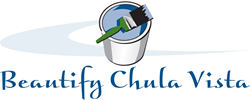 Chula Vista, Calif. (PRWEB) September 09, 2014
Volunteer registration for the 12th annual Beautify Chula Vista is now open. The popular neighborhood clean-up event offers two Chula Vista locations from which to choose: Rice Canyon at Discovery Park (700 Buena Vista Way, 91910) and Harborside Park (670 Oxford Street, 91911). The event kicks off on Saturday, October 11, from 8:30 a.m. to noon at both locations.
Beautify Chula Vista annually attracts more than 600 volunteers who pick up litter, clean up graffiti and remove invasive plants and weeds. It is a great opportunity for students to earn community service hours, and for family and friends to get involved by lending a helping hand in their community.
The event is Hosted by Mayor Cheryl Cox and the City Council, in collaboration with I Love a Clean San Diego, Republic Services, Buff a Block and the Chula Vista Clean Team.
All volunteers must register prior to the event. Individuals or groups can register at http://www.beautifychulavista.org. For registration questions, please contact I Love a Clean San Diego at volunteers(at)cleansd(dot)org or call (619) 291-0103.
About the City of Chula Vista
The City of Chula Vista is located at the center of one of the richest cultural, economic and environmentally diverse zones in the United States. It is the second-largest City in San Diego County with a population of 250,000. Chula Vista boasts more than 50 square miles of coastal landscape, canyons, rolling hills, mountains, quality parks, and miles of trails. Chula Vista is a leader in conservation and renewable energy, has outstanding public schools, and has been named one of the top safest cities in the country. Established neighborhoods, contemporary communities, start-up firms, corporations, nationally recognized entertainment venues, the nation's only warm weather Olympic Training Center, an award winning nature center and a historic downtown all contribute to Chula Vista's attraction for both families and businesses.