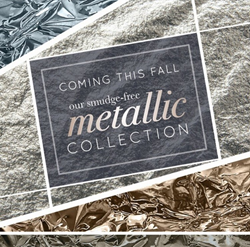 our Liquid Mattes Lipsticks will cater to a variety of people and tastes
San Diego, CA (PRWEB) August 12, 2016
This fall Beauty Bakerie, an independent cosmetics brand recognized for their smudge-free products, will be launching 'Kitchen Noise,' a metallic Lip Whip collection. With their liquid matte Lip Whips creating a buzz worldwide for withstanding the battle against water, food, and even lasting an entire 24 hours, their metallic liquid lipsticks are the perfect segue into the future of their smudge-free lipstick line.
"With fall approaching, I tend to love on the deep reds, browns, and nudes more than usual but this line, like our Liquid Mattes Lipsticks will cater to a variety of people and tastes. Our preferences are all so different, so this was and has always been important to me."
While each of Beauty Bakerie's collections is named after exquisite pastries, the metallic liquid lipsticks were inspired by the sounds one hears in the kitchen: the clanking of cooking tools, utensils, and dishes. Although Kitchen Noise is an extension of their liquid matte Lip Whips, the same smudge-free formula remains.
About Beauty Bakerie: Beauty Bakerie Cosmetics Brand is a cruelty-free cosmetics company located in downtown San Diego, California, and was founded in 2011 by CEO Cashmere Nicole. With highly sought-after products, Beauty Bakerie has partnered with retailers in 5 countries to cater to their sweet-tooth having, sugar-loving customers. Visit them online at beautybakerie.com