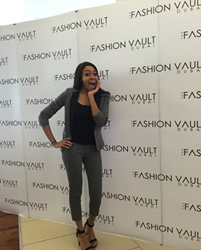 I went out to Dubai to meet them and they were the sweetest group of women you'd ever meet
San Diego, CA (PRWEB) April 15, 2016
For many small business owners, goals for growth are frequently common: identify a niche need in the market, produce a product to serve said niche, and source and deliver that product to the consumer in a streamlined fashion. Grow, expand, repeat. This is the model young entrepreneur Cashmere Nicole, CEO of Beauty Bakerie, has mastered. Now, her business, Beauty Bakerie Cosmetics Brand, is growing wildly and collecting stamps on its proverbial passport as the company embarks on international expansion from the West Coast to the malls of Dubai using the very formula that brought them success in the e-commerce world.
Through Beauty Bakerie's active social media presence, the brand is gaining attention worldwide. In fact, Beauty Bakerie's social media presence has gained so much traction that @BeautyBakerieMakeup now has more than 160,000 followers on Instagram and they've successfully popularized the hashtag #WhatSmudge, under which hundreds of beauty influencers put the smudge-free products to test. The brand caught the interest of The Fashion Vault Dubai, a luxury boutique located in Sunset Mall in the Palm Jumeirah. The owners were interested in carrying the line alongside their top-tier luxury inventory.
"I went to Dubai to meet them and they were the sweetest group of women you'd ever meet," said Nicole of the event. "We tried on clothes and prepared for the launch, which included a visit from Parisian makeup artist Calvin Opaleye."
The launch of the collection in the Dubai location was commemorated with an exclusive collaboration between the brands. The product of the collaboration was a Lip Whip in "Berry Sweet," a bright purple smudge free lip color that was available exclusively to the customers of The Fashion Vault.
Though the launch of the brand in an international brick and mortar was a sign of international expansion, Nicole also believes the brand's motif for expansion extends beyond geographic locations and can be measured by growth in any area, both tangible and intangible.
"Expansion can be best measured by growth in any area, in any way," explained Nicole. "If through my brand, I inspire someone to make a positive change, I will feel accomplished. Whether they donate to a fund they believe in or feed the homeless, that is true expansion."
"That is what we've been doing through Beauty Bakerie," Nicole continues. "I've used that platform to inform about my product, but to also share the mindset of being kind, inclusive and sweet as a pastry. Where I strive to be better not bitter, it is through customer care and the encouragement of my own employees to be their greatest versions of themselves in order to be the greatest to our customers."
About Beauty Bakerie CEO Cashmere Nicole:
"Thank you for supporting a brand that has withstood the lemons life has tossed my way. The lemon of teenage parenting alone, the lemon of divorce, and the worst lemon: the lemon of Breast Cancer. There have been losses along the way and losses have a funny way of holding significant value because very similar to a gain, they help shape who we become, how we deal with challenges, and how we interact with others. If there is one thing I want you to do, it is to allow those gains and losses to make you "better not bitter." That is what being 'sweet' is all about!"
For more information about Beauty Bakerie Vegan Cruelty Free Beauty Products , visit BeautyBakerie.com.