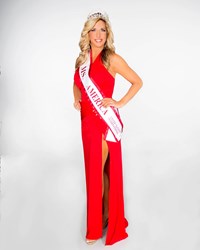 "I am beyond grateful to have received the distinct honor to speak and bring awareness to issues that I hold dear to my heart."
Oklahoma (PRWEB) October 02, 2013
The passion that Oklahoma native Carla Gonzalez – Model, Philanthropist, Public Speaker, Social Worker - has as a beauty queen who represents America has motivated her to expand her reach into causes that require awareness. Gonzalez has a national certification in Bullying Prevention and Teen Dating Violence Prevention, a cause that she has been devoted to for several years and has been a leading part of her platform. Gonzalez has broadened her platform to include the empowerment of women. In addition, she has also acquired several more national certifications, including Grief Recovery, Anger Management Specialist and Prevention Relationship Enhancement Program (PREP) facilitator. Gonzalez received her most honorable award this year from President Barack Obama for her commitment to strengthening the nation through her volunteering and community service.
Gonzalez is steadfast on her way to becoming a National Life Skills Coach to motivate and empower those who need support. She is preparing to compete at the Ms. United Nation International pageant beginning Oct. 2 in Montego Bay, Jamaica as she would like to reach a large audience and bring awareness of Bullying Prevention and the empowerment of women around the world.
As a testament to her commitment to social issues, earlier this year Gonzalez was named Honorary Chair of the Single Parent Support Network. Her journey and experience with single parenting was also documented in the organization's recently-published book "Wingspan". Gonzalez was also a presenter at the organization's "Queen for a Day" event last year, discussing the importance of Anti-Bullying – an issue that affects kids worldwide.
Gonzalez, who is also a model, recently wrapped up several red carpet and special appearances at parties for the 65th Emmy Awards in Los Angeles. She appeared on the red carpet for events supporting some of her favorite charities such as Wounded Warriors, Susan G. Komen, Not for Sale – Human Trafficking, to name a few. Gonzalez is currently undergoing private acting lessons with legendary Golden Globe winner and Oscar nominee for Best Actress Sally Kirkland.
For years, Gonzalez has exemplified the true spirit of a community activist, using her influence, grace, and charm to highlight the need for awareness of issues from teen dating violence to internet safety and human trafficking. In addition to being a member of the Single Parent Support Network, she serves on several other boards and committees including the Human Trafficking Taskforce, Oklahoma Coalition against Domestic Violence, and Violence against Women and Girls Subcommittee.
Gonzalez is also involved with organizations such as the United Nation Association of the USA, Oklahoma Women's Coalition, the National Organization for Women, Oklahomans Against Trafficking Humans, Internet Crimes Against Children, the International Bullying Prevention Association, National Association of Social Workers, National Coalition Against Domestic Violence and American Professional Society on the Abuse of Children.
Gonzalez holds a Master's Degree from the University of Oklahoma in Clinical Social Work and is a veteran employee of the Oklahoma State Department of Health.
"I am beyond grateful to have received the distinct honor to speak and bring awareness to issues that I hold dear to my heart. Being crowned the 2012 Ms. America International and 2011 Ms. US of America were a pivotal part of my ability to attract attention to the causes that need help and I believe the Ms. United Nation International title would help spread the message of giving back and getting involved on an even larger scale," said Gonzalez.
Gonzalez is very committed and intends to stay committed to her life of advocacy. She plans to open a counseling/education center in the future while she also maintains her public career as an actress, model, pageant winner and motivational speaker.
For Media Inquiries, Interviews or Speaking Engagements please contact YM & Associates PR | Marketing | Branding at YMoralesY(at)YM-PR(dot)com or call 949-244-9769.
Yvette Morales
YM & Associates
PR | Marketing | Branding
California | New York
Phone: 949.244.9769 | 310.499.0906 Fax
Email: YMoralesY(at)YM-PR(dot)com
http://www.YM-PR.com