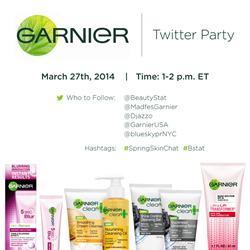 All skincare questions will be answered live by board-certified dermatologist, Dr. Diane C. Madfes"
New York, NY (PRWEB) March 25, 2014
BeautyStat and Garnier will be hosting a Twitter Party on Thursday, March 27th from 1-2PM ET. All skincare questions will be answered live by board-certified dermatologist Dr. Diane C. Madfes and beauty/lifestyle blogger Jasmine Banks of JustJasmineBlog.com.
The brand will also be chatting about the brand-new Garnier products available right now! Garnier Clean+ has introduced a customized cleansing/exfoliating line that addresses certain issues according to skin type: Normal, Combination, Oily and Dry.
Normal skin is refined with natural peppermint and jojoba beads found in the Invigorating Daily Scrub; oily skin and clogged pores are left completely clean with charcoal after using the Blackhead Eliminating Scrub and Shine Control Cleansing Gel, while dry skin is restored to a softer and smoother state with moisturizing macadamia oil found in the Smoothing Cream Cleanser and Nourishing Cleansing Oil — the first oil-cleanser in the mass market!
Winter's imperfections are now erased with Garnier Ultra-Lift Transformer and 5 Sec Skin Renew Instant Smoother — blurring those fine lines, pores and transforming uneven skintone into a smoother, firmer, more younger-looking complexion. Garnier is making sure that this spring will be your best skin season yet.
And while tweeting about skincare concerns, the brand will be giving away 10 Garnier Prize Packs! Guests will be able to take home complimentary Garnier skincare items to try for themselves and get the spring skin they've always wanted.
To join the Twitter party, RSVP here on >> BeautyStat.com.
BeautyStat.com is an online beauty retail platform (that features makeup, skincare and haircare reviews). It has been featured in Women's Wear Daily, LA Times, New York Times, Forbes Magazine, NBC and CBS News. The strength of BeautyStat.com is its captive, engaged and influential 200,000+ community, 190+ blogger network and 40 million social network reach. BeautyStat.com works with beauty brands, retailers and PR agencies to connect them to the BeautyStat community for e-commerce, advertising and rich consumer insights.