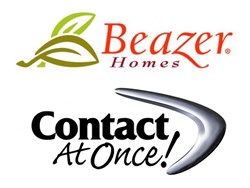 With chat, we're able to engage prospects and answer questions while they are researching online, helping them navigate the homebuying process.
Atlanta, GA (PRWEB) January 28, 2014
Contact At Once! announced today that Beazer Homes USA Inc. started adding Contact At Once! live chat to its websites. This move enables online and mobile consumers to engage in conversations about Beazer communities and set appointments with Beazer New Home Counselors.
"We piloted the Contact At Once! chat solution and received some great responses from consumers," says Sonja Sims, Director of Marketing, Beazer Homes. "With chat, we're able to engage prospects and answer questions while they are researching online, helping them navigate the homebuying process."
Although many searches for a home start online now, homebuyers still need help in the research phase. Contact At Once! can make it easier for companies to put a personal touch back into the process via real-time, online conversations.
"People are increasingly using mobile devices to visit builder websites and browse available homes. It's smart to offer them convenience and accessibility, instead of just relying on lead forms or those willing to call," says Marc F. Hayes, Jr., Founder and EVP of Strategy for Contact At Once!.
Beazer Homes rolled out the solution in November 2013 to support all of its markets. The chat option is available on all community specific pages and metro-area landing pages. New Home Information Managers will answer incoming chats and offer to help prospective buyers learn more about the area, the community and their Beazer Homes options.
ABOUT CONTACT AT ONCE!
Contact At Once! software boosts engagement by making it easy for consumers to connect with businesses and ask questions at the moment their interest in a product is piqued. For example, the company pioneered the use of mobile text and live chat in real estate advertising, enabling instant conversations between homebuyers and builders, brokers and agents. More engagement translates into more sales, and that's why 13,000 businesses and some of the most highly trafficked advertising websites rely on Contact At Once!. For more information, visit http://www.contactatonce.com.
ABOUT BEAZER HOMES
Headquartered in Atlanta, Beazer Homes is one of the country's 10 largest single-family homebuilders. The Company's homes meet or exceed the benchmark for energy-efficient home construction as established by ENERGY STAR® and are designed with flexible floor plan options to meet the personal preferences and lifestyles of its buyers, at no additional cost. In addition, the Company is committed to providing a range of preferred lender choices to facilitate transparent competition between lenders and enhanced customer service. The Company offers homes in 16 states, including Arizona, California, Delaware, Florida, Georgia, Indiana, Maryland, Nevada, New Jersey, New York, North Carolina, Pennsylvania, South Carolina, Tennessee, Texas and Virginia. Beazer Homes is listed on the New York Stock Exchange under the ticker symbol "BZH." For more info visit Beazer.com, or check out Beazer on Facebook and Twitter.