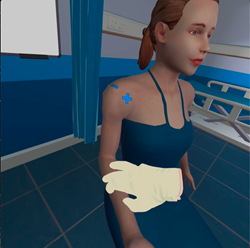 Our fabric sensors and haptic gloves incorporate touch into the VR environment creating a compelling training platform.
BERKLEY, Calif. (PRWEB) May 26, 2021
BeBop Sensors, a haptic glove technology leader, and Advanced Medical Simulation Online, a pioneer in remote healthcare education and training, announced their haptic-enabled healthcare VR training tool for remote instruction to medical professionals.
REACH ćVR (Remote Education And Coaching in Healthcare with Virtual Reality), a new concept developed by Advanced Medical Simulation Online, using BeBop Sensors' haptic VR gloves, to offer curriculum-based training in a number of skills-based medical applications, with haptic feedback, real-time assisted guidance in one system. BeBop's solution allows the trainee to use their hands naturally to learn, versus using a controller or trackpad. The multi-user environment enables trainers and students to have a much richer experience in the immersive VR environment due to the addition of touch via haptic feedback.
"Our partnership with BeBop Sensors has enabled the creation of a novel remote training virtual reality tool that is invaluable to our trainers and medical students," said Prof. Nazar Amso, CEO of AMSO. "Despite the pandemic, we can deliver high-quality training to medical professionals via our VR application."
The emphasis on medical care and training is greater today than ever before and rendering remote healthcare training to medical professionals helps them practice their learning and keep up with required certifications. BeBop Sensors has made haptic actuator and sensor-based VR gloves that will enable Med-Ed Academy to continue its mission of providing vital training to its students. BeBop has a rich history of innovation using sensors in a variety of applications in the medical industry.
"Our fabric sensors and haptic gloves incorporate touch into the VR environment creating a compelling training platform," said Keith McMillen, CEO of BeBop Sensors. "AMSO and Med-Ed Academy's vision and remote skills training platform is a perfect example of an application that is immensely valuable to the medical community."
About BeBop Sensors & Award-Winning BeBop Sensors Products
BeBop Sensors products have won the Red Herring Award, the TIME Magazine Best Inventions Award, the IDTechEx Wearable Award, the Frost & Sullivan North American Technology Innovation Award, and the Gartner Cool Vendor Award. BeBop Sensors uses smart fabrics to create elegant sensor solutions for OEMs. BeBop's sensors comprehend force, location, size, weight, bend, twist, and presence across any size, resolution, and geometry. The sensors are available for various applications, including military, industrial, medical, human factors, Virtual Reality, gaming, design, automotive, sports, and more. BeBop's technology is robust and proven, with over four million sensors in daily use. BeBop Sensors makes things knowable for product designers and visionaries. http://www.bebopsensors.com
About Advanced Medical Simulation Online and Medical Education Academy
Advanced Medical Simulation Online is based in Wales, UK with a multi-sector offering encompassing healthcare-related R&D and medical education. Its customer segments include healthcare and education institutions as well as professionals aspiring to improve their knowledge and skills primarily through its remote learning model. The business delivers its skills-focused education programmes through its subsidiary, Medical and Educational Academy and its award-winning virtual learning environment. AMSO aims to build on this partnership to transform the delivery of skills-based education using BeBop's novel technologies. AMSO's R&D focuses on projects that empower healthcare professionals to gain skills faster and better in a real-life environment or in a novel immersive virtual environment. Med-Ed Academy's learning outcomes are aligned with national and international professional bodies such as RCOG, ISUOG, BFS , and EBCOG. https://www.meded-academy.com
Media Contacts:
BeBop Sensors:
Jerry Kurtze, VP, Business Development
jkurtze@bebopsensors.com
http://www.bebopsensors.com
(408) 836-1765
Advanced Medical Simulation Online:
Prof Nazar Amso, CEO
nazar.amso@meded-academy.com
http://www.meded-academy.com
+44 7774 780244