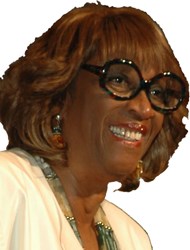 Five groundbreaking workshops, led by prolific teachers and practitioners in the New Thought Movement.
Atlanta, GA (PRWEB) August 31, 2013
Five groundbreaking workshops, led by prolific teachers and practitioners in the New Thought movement are planned for Hillside International Truth Center's "New Thought Weekend" event, Saturday, September 7, 2013 beginning at 10:00 a.m.
The day commemorates Dr. Barbara L. King - Founder Minister/World Spiritual Leader - and the Hillside International Truth Center Family's 42nd Anniversary. The special day of seminars and workshops kicks off a month of activities for the celebration.
Saturday gets underway with the dynamic, insightful, Dr. Michael Bernard Beckwith, Spiritual Director of the Agape International Spiritual Center in Los Angeles. Known for his contributions to the mega-hit film and book, "The Secret," his PBS Special, The Answer Is You and his bestselling book, "Spiritual Liberation," Beckwith will deliver his workshop on "Living From the Overflow: How To Embody a Consciousness of Wealth."
Dr. Rickie Byars Beckwith's artistry will weave throughout the presentation to establish a tone of celebration, inspiration and communion. Rickie will also perform with the New Thought combined choirs at 9:30 a.m. prior to the seminar at 10:00 a.m.
Beckwith's workshop is designed to show participants:
•How to cultivate a spiritual understanding of authentic wealth
•How to activate the law of abundance in all areas of life
•How understanding, gratitude and generosity create a magnetic field for wealth
•How to explore the inner spiritual practices that usher divine communion: Meditation, Affirmative Prayer, and Visioning
•How a consciousness of wealth grows in line with your personal vision for your life
•How to set your Intention and focus your Attention: Your Ticket to Transformation
Attendees will have an opportunity to get their questions answered and their books signed.
After lunch, the learning and enlightenment continue with:

Hillside International Truth Center, Inc. is an independent New Thought center founded in 1971 by Dr. Barbara Lewis King in Atlanta, Georgia. Hillside is a teaching and healing ministry for the whole person - Spirit, Mind and Body. Life Classes are conducted year-round in addition to Sunday morning services and more than 30 auxiliaries and outreach programs.
The complete schedule of 42nd Anniversary events is available at HillsideInternational.org .