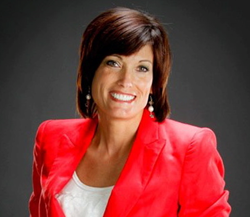 You must be the change you wish in the world
American Fork, UT (PRWEB) September 02, 2014
On September 2, 2014, at 7:00 pm MDT, academic editing service TotalEdit.com will host a webinar featuring self-published author Becky Mackintosh. In the information age, self-publishing has become easier than ever, yet many authors still struggle to become successful. In this special exclusive webinar with Becky Mackintosh, she will tell the story of the media success behind her book "My Husband Wears The Short Shorts In THIS Family!: Parenting With Humor, Courage And A Whole Lot Of Love".
Through the lens of possibility, Becky rekindles the evidence that fun and humor can indeed go hand in hand with effective and influential parenting. Her book has been featured on Rachael Ray, Good Morning America, Inside Edition, and several other radio and television shows.
Becky was a featured speaker at the 2011 and 2013 BYU Women's Conference sharing her message of "Encouraging, Praising and Providing Help for Teenagers." She has had the privilege of speaking and coaching a goal setting program at the NIILM University in India encompassing students from 21 countries in 2011 and 2012. Her universal message of "Creating Your Ideal Life" to honor individuals' unique gifts and talents, has been well received by many around the world.
Find out more about Becky at http://www.LifesShortLessons.com.
Registration for the webinar is free to the public and is available here: https://totaledit.leadpages.net/special-interview-w-becky-mackintosh/