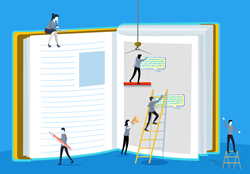 LOS ANGELES (PRWEB) December 03, 2019
Giantbook is not a regular book. It's a book in which anybody can post any message. The Giantbook project aims to house millions of personal posts from people from all works of life around the world. The best part is that anybody who contributes to the book will be recognized as the co-author. Just as the name suggests, the project is expected to be ginormous.
The Giantbook project has a target to exceed a 100,000 messages. After this, it will be edited and sent out for publications which may take a great amount of effort considering the size. Once this is done, Giantbook will be submitted to the Guinness World Records to gain the title of the first published book with the greatest number of co-authors.
If this is successful, the Giantbook will be listed among other great books. For example, the largest published book (size-wise) is the first edition of the "The Little Prince" which measures 6.583 feet high by 10 feet wide when open. It contains 128 pages and was written by Ediouro Publicacoes of Brazil. The longest book – La Recherche du Temps Perdu (Remembrance of Things Past) – was written by Marcel Proust in 1912 and contains approximately 9,609,000 characters.
In comparison, it's estimated that with 200,000 messages posted, the Giantbook will measure 17 by 20 inches and have about 2000 pages, weighing 33 pounds. With 500,000 messages posted, the book will measure 20 by 30 inches and have close to 4000 pages, weighing about 70 pounds. While it may be difficult to break the record for the largest and longest book, there is no book in the Guinness World Records that is listed to having the most authors. This makes the Giantbook project a viable venture.
After earning its way into the Guinness Book of Records, the Giantbook will be scheduled to travel around the world for display. People will be able to see it in museums and other special art exhibits. The creators are going to send the Giantbook into travel to outer space.
Anybody can be part of this world record-breaking journey. Contributing your messages to the Giantbook, starts from $1.99 only. You can write about anything.
You can sign up for the Giantbook project using Twitter, Facebook, or Instagram.