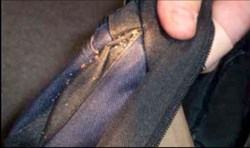 ...it [Bed Bug Bully] is organic-based, pesticide-exempt and already in EPA's FIFRA 25(b) list so everyone could rest assured of its safety.
Pittsburgh, PA (PRWEB) November 11, 2013
Bed bugs found their way to Brashear High School. According to a report from cbslocal.com published on November 07, 2013, they were spotted at the school last week. In response to it, My Cleaning Products recommended a bed bug spray to the public to help them kill the pests without using harmful chemical ingredients.
As it was said in the report, the pesky insects were particularly seen crawling out from the backpack of one student, My Cleaning Products shared. Following it, he and his belongings were then sent to the school nurse while the classroom he was in was cleaned, it added.
On Wednesday though, when the student was back, the report stated that more bed bugs were then found, MCP related. Because of it, an official investigation about the bed bug problem was set on Friday, it shared. Moreover, on Saturday, a school-wide bed bug treatment was scheduled, just as parents and students wanted since the first incident, it detailed.
Here is an excerpt from the post Bed Bugs Found in Brashear High School Student Backpack by My Cleaning Products.
"Probably, the worst thing about bed bugs is that they don't spare anyone or any place, for that matter. Even schools are now at the mercy of their presence. Take, for example, Brashear High School.
Last week, the pests stirred a commotion at the said Pittsburgh school. They were spotted crawling out of one of the student's backpack. And needless to say that caused worry among students and parents alike."
My Cleaning Products said that prompt bed bug inspection and treatment are indeed needed at Brashear High as one of those critters is enough to start to an infestation. However, it warned the public that residences are more prone to those pests than schools and other places. And as it reasoned, that's because they have a steady source of food at houses, especially at night.
Because of that, MCP encouraged the public to implement preventive measures. In addition to that, it advised everyone to always be ready to kill bed bugs.
However, when preparing, it said that one must make sure his choice of bed bug spray is safe. It stated that there are now many pesticides offering prompt and effective way to eliminate bed bugs but are actually made with harmful chemical ingredients that could harm health and further pollute the environment.
And so, to help the public ensure that the product they use is safe, it recommended Bed Bug Bully over the other bed bug sprays. It said that it is organic-based, pesticide-exempt and already in EPA's FIFRA 25(b) list so everyone could rest assured of its safety. Moreover, it shared that hotels, hospitals and pest-control companies have already proven that it is effective.
To try it, MCP detailed that Bed Bug Bully Complimentary Samples are available at MyCleaningProducts.com.