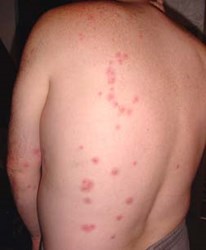 ...it [Bed Bug Bully] is organic-based, pesticide-exempt and is even on EPA's FIFRA 25(b) list. So, the public could make sure that it is safe...
Saginaw, MI (PRWEB) November 13, 2013
Bed bugs were reportedly causing a ruckus in two Saginaw public housings. A post from mlive.com related the news to the public on November 06, 2013. In response to it, My Cleaning Products suggested a pesticide-exempt bed bug spray to help residents fight off the crawlies.
According to the news, Maple Manor at 535 S Warren Ave was one of the two infested housings, My Cleaning Products shared. The other, it added, was Rosien Towers located at 310 S. Harrison.
Based on the statement of one of the Maple Manor residents, Patricia Byrd, she was hospitalized last month due to the bed bug bites on her cheek, chest and arm, MCP relayed. However, after she reported it to the management when she got out on October 18, she detailed that they told her it would take two weeks before they could look at her unit. Meanwhile, Rosien Towers' tenant Sherry Tucker stated that in their complex, the bed bug victims were already losing their furniture pieces. And as she stressed, for them in a fixed income, that was definitely a problem.
However, Lesley Foxx Sims, the executive director of Saginaw Housing Commission that manages both complexes, said the agency was taking the bed bug cases in the two complexes seriously. Moreover, he added that they were resolving the problem aggressively.
Below is an excerpt from the post Bed Bug Infest Two Saginaw Public Housing Complexes by My Cleaning Products.
"Bed bugs are very common in residences. In fact, they are far more common in them than any other place. And the latest to prove that true are the recent bed bug cases in two Saginaw housing complexes.
Maple Manor, located at 535 S Warren Ave was one of those two public housings in the county heavily infested by the small but terrible critters. The pests were discovered in the complex last month."
Residences are indeed more prone to bed bug infestation than any other place, My Cleaning Products said. And is it explained that is because of the high traffic of people in them.
However, even though one implement steps to prevent the presence of bed bugs in his or her house, MCP said that it is essential he or she also prepares a bed bug spray. That's because anyone could pick bed bugs anywhere unnoticed, it stated. But with a product to kill bed bugs ready, one could eliminate them quickly and avoid the worse of whatever problems they could bring.
Of all the bed bug sprays for sale though, the company only recommended Bed Bug Bully. It shared that it is organic-based, pesticide-exempt and is even on EPA's FIFRA 25(b) list. So, the public could make sure that it is safe, it stated. Moreover, it relayed that hotels, hospitals and pest-control companies have also already proven that it efficiently kills the critters.
And to prove all that, MCP as well announced that it is giving out samples of the product. Anyone who wants one, it said, could get a Bed Bug Bully Complimentary Sample at MyCleaningProducts.com.