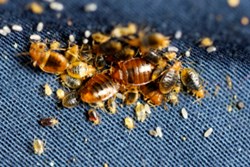 ...being organic and pesticide-exempt, it pointed out that it [Bed Bug Bully] is safe. Additionally, it is already in EPA's FIFRA 25(b) list, it shared.
Manchester, NH (PRWEB) January 07, 2014
The landlords and tenants in New Hampshire were fighting the bed bugs in rental housing together. A report from therepublic.com related their team-up on December 09, 2013. Meanwhile, wanting to lend a hand to all victims of bed bugs, My Cleaning Products suggested a pesticide-exempt bed bug treatment product.
Based on the report, the new law was scheduled to take effect on January 01, 2014, My Cleaning Products shared. And as it detailed, it outlined the responsibilities of both landlords and tenants in eliminating bed bugs.
In the report, it was particularly said that the law requires the landlords to get rid of the critters within seven days after being informed of the tenants the pest's presence, MCP relayed. If he or she fails to resolve the issue, it said that a tenant could request a judge to command a landlord to do a bed bug elimination. However, if it was the renter who caused the infestation, it related that the new law requires him to shoulder the expense.
Here is an excerpt from the post New Hampshire Implements New Bed Bug Law by My Cleaning Products.
"The prevalence of bed bugs has reached New Hampshire. And so to fight them, the city's landlords and tenants teamed up for a new law.
As their joining of forces indicates, the new bill specifically aims to eliminate the tiny vampire-like critters in rental housing. It set the responsibilities of both of them in dealing with the infestation of the crawlies."
According to My Cleaning Products, though bed bugs are now almost everywhere, apartments remain as some of the places they mostly infest. And so, it commented that such new law of New Hampshire is needed.
However, it said that not every state got a law against bed bugs. And even if a person lives in a state with one, it added that there are other things that need to be done, besides following that law, to be completely protected from those critters.
One of those things it cited was getting a bed bug spray. It said that it enables a person to kill bed bugs promptly, thus, preventing it from multiplying and spreading.
Nonetheless, MCP only recommended the use of Bed Bug Bully. That's because it is effective as proven by hotels, hospitals and pest-control companies, it stated. Moreover, being organic and pesticide-exempt, it pointed out that it is safe. Additionally, it is already in EPA's FIFRA 25(b) list, it shared.
To test it, it relayed that a Bed Bug Bully Complimentary Sample is available for anyone who wants it at http://www.mycleaningproducts.com.