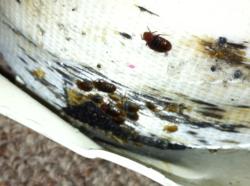 Among the many bed bug sprays though, MCP asserted that Bed Bug Bully is the best product anyone could get.
Cedar Rapids, IA (PRWEB) July 12, 2013
Bed bugs are a huge problem in residences, particularly, in apartments. And having enough of them, one man who has been suffering from the pests for years already publicly sought for help, said a report from kcrg.com. In response to it, My Cleaning Products expressed its support and offered samples of its bed bug spray Bed Bug Bully.
It was determined in the report posted on July 01, 2013 that the man was George Halfhill, whose unit was plagued by bed bugs for more than 2 years, My Cleaning Products shared. To seek the help of his community in fighting off the bloodsuckers, it detailed that he displayed a sign outside his window that read "bed bugs 2 + years, help."
In the news, Halfhill stated that bed bug elimination is a community concern and must be done as such, MCP related. Hence, he suggested that if landlords want to rent out properties in an area, they must work with the residents, it relayed.
In addition to the sign, the report said that Halfhill also sent a letter to the city's office about his apartment building's bed bug problem, MCP shared. He was told that the landlord was notified about it and was given until July 15 to prove that he hired a pest-controller to solve the problem, it added.
Below is a part of the post Man Takes Bed Bug Problem to Public by My Cleaning Products.
"A man from Cedar Rapids in Iowa has had enough of bed bugs. So, in an attempt to get his community to help him battle the tiny vampires, he got his bed bug problem penned out.
George Halfhill has been living for more than a year or two in an apartment with bed bugs. According to his account, his family has been waking up with red bites, no thanks to those small but terrible creatures."
According to My Cleaning Products, bed bugs are now so widespread that their elimination is indeed a community's business. And as it said, everyone's part on eliminating them for good starts on clearing them from home.
However, it specified that of all the bed bug treatment methods, the best one an individual could implement is the elimination through a bed bug solution. It pointed out that it offers a very affordable and easy bed bug extermination.
Among the many bed bug sprays though, MCP asserted that Bed Bug Bully is the best product anyone could get. It said it is effective that it could kill bed bugs in seconds. More than that, it relayed that it is safe as it is made with organic ingredients. In fact, it detailed that it was already classified by EPA as pesticide-exempt under FIFRA 25(b).
To prove it if it is both truly effective and safe, the company urged the public to try it themselves. It shared that Bed Bug Bully Complimentary Samples are available at MyCleaningProducts.com.