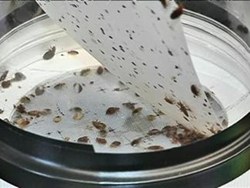 Bed Bug Bully is the best because of the effective and safe bed bug treatment that it offers...it could kill bed bugs in seconds without the help of harmful chemical ingredients
Los Angeles, CA (PRWEB) July 15, 2013
The presence of bed bugs has already forced so many offices, facilities and stores to temporarily close. One homeless shelter in San Luis Obispo, California became the latest addition to them according to a report from sanluisobispo.com. But stating that the pests' elimination doesn't always have to cause inconvenience and big expense, My Cleaning Products recommended the use of Bed Bug Bully for a DIY bed bug treatment.
The report, posted on July 10, 2013, specified that Marine Lewis Memorial Shelter was the particular facility infested by the vampire-like crawlies, MCP said. And as it detailed, it was the shelter's first encounter with the described small but terrible critters.
Over the weekend, the news said that bed bug bites were noticed in one of the facility's clients, My Cleaning Products relayed. And on following Monday, it shared that one bed bug was found by a shelter's staff within the premise. A pest-control company, it added, has also confirmed the infestation of the pests in one section of the building.
But rather than just treating the infested area, it was decided that the whole facility will be sprayed, MCP relayed based on the report. In addition, sheets, blankets and towels in the shelter were also cleaned, it stated.
Below is a part of the post Homeless Shelter Closed Due to Bed Bug Presence by My Cleaning Products.
"Many establishments and offices had once or more temporarily ceased their operations due to a bed bug infestation. Marine Lewis Memorial Shelter recently became one of them.
The shelter, located at San Luis Obispo, California, was forced to shut down after a pest-control company confirmed that its beds in a particular section of the building were infested by the pests. But rather than just treating the area affected, Dee Torres, homeless services coordinator for the Community Action Partnership of San Luis Obispo, decided that it's best to have the entire facility treated."
Green cleaning company My Cleaning Products said that bed bugs are indeed a big nuisance to the operations of stores, facilities and offices. But besides those places, it stated that the tiny bloodsuckers are also a scourge to houses.
Because of that, MCP stated that everyone must know how to block the pests' presence from residences. Nonetheless, it added that bed bugs are sneaky. And so, it stressed that every individual must also learn how to detect and get rid of them quickly.
To detect and locate bed bugs early, the company said that one must always be on the look for bed bug signs. And once they are found, it stated that a prompt bed bug treatment must then be implemented. But of the bed bug sprays, it asserted that Bed Bug Bully is the best one for a DIY bed bug elimination process.
MCP reasoned that Bed Bug Bully is the best because of the effective and safe bed bug treatment that it offers. It explained that it could kill bed bugs in seconds without the help of harmful chemical ingredients. In fact, EPA has already classified it under FIFRA 25(b), it shared.
To prove it themselves that the product is the best, MCP encouraged the public to try it.
As it detailed, Complimentary Bed Bug Bully Sample is available at MyCleaningProducts.com.